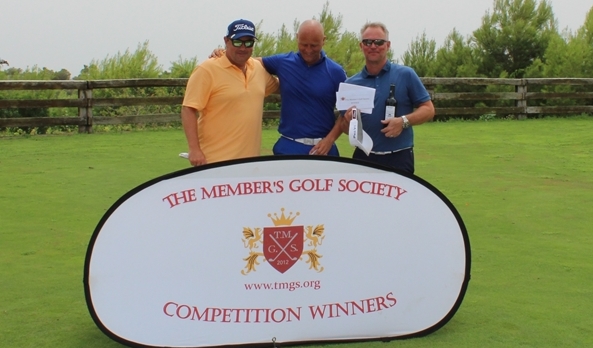 A lightening raid of Vikings from Norway swelled our numbers to 40 for this month's visit to Campoamor. The golf course was in excellent condition apart from the 6th green being a temporary.
The original was rebuilt last year but it appears to have a little contamination in it, no doubt it will be ok for our next visit in September. This however did not detract from the day's enjoyment or competiveness.
In fact the conditions were so good that a number of scores exceeded 40 points and most of those coming from single figure handicappers! Anyway back to the Vikings, I suppose that the weather isn't too good up there in Norway as a number of them descended upon us this week, looking at the scores they were desperate to play which also may work against them when we play for the Viking Trophy this year and so far they haven't won it.
Due to these big scores they could be making it more difficult for themselves by lowering their handicaps or is it just a cunning plan by the Brits. The autumn matches will reveal all! It's always welcome when a member appreciates what the Society provides for him; in this case our N.T.P. prizes were sponsored by Graham Smith oops! Karen his wife told him to make it clear who paid for the wine, it was thought that she would deduct it from his pocket money but he had to explain that he didn't get enough to buy 6 bottles of red, in that case Karen, the members thank you very much for your donation.
Karen doesn't play golf she's just happy that he's out of the house for the day and has indicated via Graham that it's well worth the 6 bottles.
Results: N.T.P.'s Hole 4 Fredrik Bjorling, Hole 6 Olga Haubner, Hole 10 John Kennedy, HOLE 15 P. Boyling, Hole 17 Brian McMenamin. The 2's pot contained €60 and was shred out between Joe Dean, Kirsti Tucker and Fredrik Bjorling. Our best guests this week was a family affair father scored 41 points (7h'cap) son 15years old, (6 h'cap) scored 43 points well done T. & M Fyke. Bronze category 3rd C. Bellman 30 pts. 2nd M. Mahoney 32 pts. 1st J. Davidson 37 pts. Silver category, 3rd J. Hettrick 34 pts. 2nd R. Nilsen 35 pts. 1st O. Rong 40 pts. Gold category, 3rd C. Landaas 36 pts. 2nd R. Malmgren 37 pts. 1st F. Bjorling 41 pts.
Further information about our Society can be found at www.tmgs.org Facebook.com/TMGSGOLF @TMGSGOLF and now from our new mobile app. Or 661 524 101