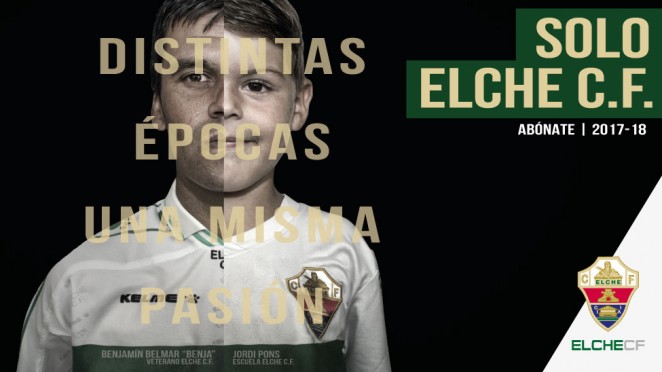 Elche Club de Fútbol this morning launched their 2017/18 season-ticket campaign under the slogan, Solo Elche C.F. (Only Elche CF). To something of a mixed reaction online, prices – which seem a little on the high side – were announced in the range from 65€ up to 325€.
For these prices subscribers can avail themselves of the entire Elche pre-season campaign, including the Trofeo Festa d'Elx game against Levante on August the 12th, nineteen regular season matches, Elche CF Ilicitano home games and the first three Copa del Rey games if Elche are drawn at home as they progress.
The club, as is customary, have reserved the right to make two games "economic" which is to say entrance to these two matches will not included in the season ticket. For certain, one of these will be the Alicante derby with Hercules CF.
In an attempt to make the deal more attractive, the club also announced that should Elche be promoted to the Segunda División at the first time of asking, they will deduct the price of the current season ticket from next season's with the same discount if, a season later, the team is promoted to La Liga.
Existing customers wishing to renew their seat can do so until the day of the Trofeo Festa d'Elx fixture. One important difference for the coming season is that certain parts of the stadium, the corner curves, will be given over to advertising banners, and so, only seating behind each goal (Fondos) and facing the pitch (Tribuna and Preferencia) is being offered for sale.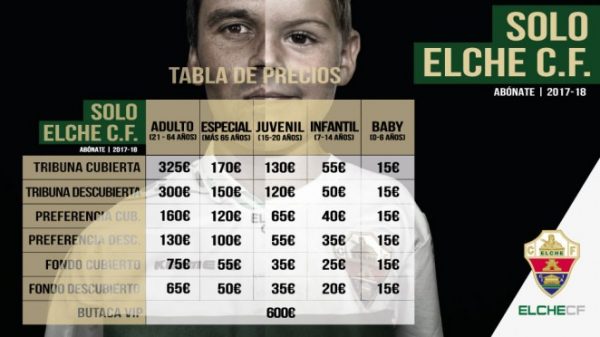 Season-ticket holders with seats in these sections of the ground last season will be offered first refusal for alternative seating from August the 14th when the campaign is opened up for new applications.
The leaflets and online marketing designs include the phrases "Different times, same passion" and "Different lives, a common feeling" in the hope that Elche CF will appeal to different generations of the same family. Speaking at the presentation Elche president, Diego García, believes that the campaign has been optimised "so that everyone can come to football."
According García, there has been a 30% reduction compared to last season's prices and "we have given the campaign special attention after the disappointment of relegation. We want us to be united; past, present and future. The goal is to reach between 6,000 and 7,000 season ticket holders, but it is the team that has to attract the fans. We'd like to start well and eventually reach 10,000".
The five categories of "abonos" available are grouped and priced by age: Adults 21 to 64 years; OAP's over 65's; Juveniles 15 to 20 years; Children 7 to 14 years and Infants up to 6 years of age. Depending on whether your chosen seat is in a covered or uncovered area of the ground also determines the price paid.