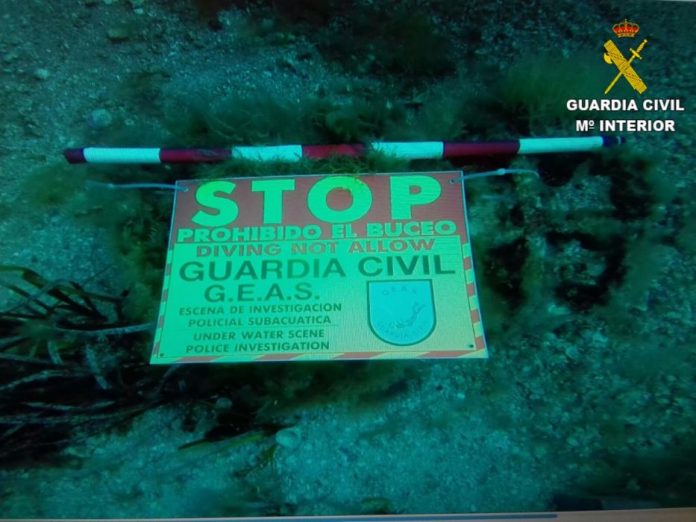 The Ministry of Agriculture and Fisheries has banned diving in the waters off the island of Tabarca, for a distance of two miles, approximately 4km, from the Marine Reserve of Tabarca and La Llosa, until Navy divers are able to deactivate a depth charge found last Sunday at a depth of 29 metres.
The mine was discovered by members of a diving club that notified the Civil Guard after finding a suspicious metal object. Members of the Underwater Activities Task Force (GEAS) travelled to the reserve and confirmed that it was a depth charge, possibly dropped by an aeroplane that was hunting submarines during World War II
The Civil Guard has said that it is waiting for a decision either to deactivate or to detonate the charge.
The Guardia Civil say that they have marked out the area and have set up a permanent monitoring device to warn approaching boats and ships. Although diving is currently forbidden, the island can still be visited and bathing is still allowed.
It is thought that the charge was left following an attack on a German U77 submarine on 28 March 1943 by 48 Sqn RAF who were based in Gibraltar.
Although it was partially damaged, the submarine remained underwater, so the aircraft requested help from a second plane, a Lockheed A-28 Hudson from 233 Squadron which located the damaged U77 when it next came to the surface, about 30 miles northwest of the first attack.
During the 2nd attack off Tabarca, which lasted just over an hour, the Lockheed launched four depth charges which, according to the incident report written by the pilot, fell to within five meters of the submarine.
Just before it sank the commander of the U77, Oberleutnant zur See Otto Hartmann, ordered the vessel's evacuation, but of the twenty sailors who were on board at the time, only nine were able to survive.