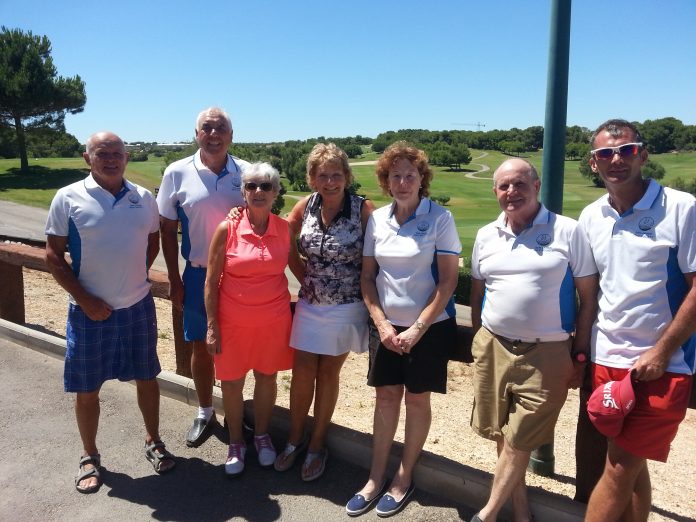 We always love playing at Lo Romero, one of our favourite courses and it did not disappoint, being (as always) in immaculate condition. The weather was very hot and therefore all but four of our members used buggies.
There was some good scoring throughout both divisions, most notably by Daz Hancock, who shot a 4 over gross! The winners on the day were: Division 1: First was Daz Hancock with 38 points, Second – Barry Beale with 37, Third – Paul Newman with 37 and Fourth – Paul Matthews with 34 points. In Division 2 the ladies had a field day!
First was Jo Murphy with 36 points, Second – Sandra Twentyman with 35, Third – Christine Flanagan with 34 and Fourth at last was a man, Ty Williams with 34 points. Nearest the pins were won by Paul Newman, David Archer, Paul Hamlin, Bob Gallard, Shaun Devine and Bob Eaton. The gross 2 (for 50 euros) was won by Daz Hancock.
Our next game is a team "Dusty Bin" competition at La Serena, teeing off at 9:10am on Wednesday 19th July. Full details will be emailed to all members. Payday will be on Saturday 15th July, between 11am and 12 in the bar area at La Serena Golf Clubhouse, Los Alcázares.
For further information on our society, to play as a guest, or to join, please phone Barry Beale on +34 649 245 889 or look at our website at www.sanjaviergolfsociety.co.uk and Facebook page at www.facebook.com/sanjaviergolfsociety
Attached is a photo of the winners on the day L to R: Paul Matthews, Barry Beale, Sandra Twentyman, Jo Murphy, Christine Flanagan, Ty Williams and Daz Hancock.