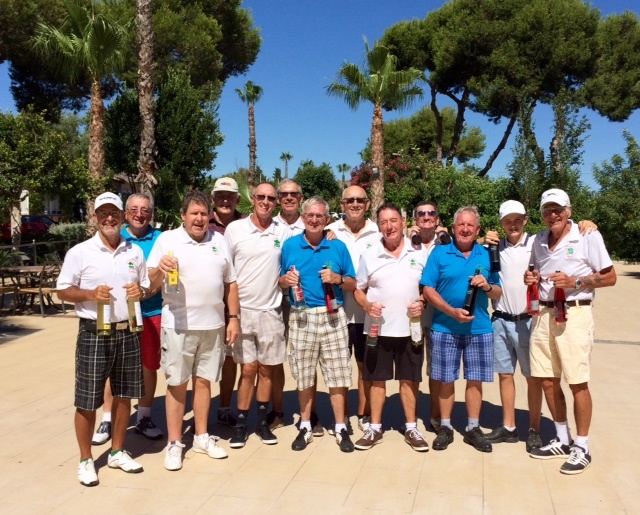 Tuesday 4th July club day saw 16 members and a guest compete in a Texas Scramble, a competition well-liked by most taking part. Two teams of four and three of three set off on a shotgun start with individuals unsure whether the advantage lay with the teams of four or three players.
It turned out that the foursomes filled the first two places, with the team finishing first achieving five birdies and no bogey fours and the team finishing second having four birdies and no bogies. This was despite the greens being in a very bumpy state after having been Hollow Tined and then being re-sanded.
Nearest the Pins, Hole 2 – John O'Brien and Hole 6 – Bryan Watson. 3rd Place, Handicap 4.9 – Ray Housley, Mike Williams, Kenton Wanty – 48.1 shots. 2nd Place, Handicap 3.68 – John Wilby, David Swann, George Stanhope, Henry Mellor – 46.32 shots . 1st Place, Handicap 4.39 – Ian Henderson, Bryan Watson, Rod Loveday, Mike Davies – 44.61 shots.
Picture shows all the winners who are too numerous to mention.
If anyone would like to join our Society, we play at El Plantio Golf Club on Tuesday, Friday and Sunday. We use both courses – the Par 3 nine hole course and the main 18 hole course, so we cater for all abilities.
The membership rates are very competitive, so call for more details. Anyone who wishes to play in the Society as a guest or join as a new member, contact Ian Henderson on 966 716 616 or 636 116 230