The latest organisation that has been generous enough to make a sizeable donation to the HELP at Home CB Community bus appeal was the Campoverde Theatre Group last week, which presented a cheque for 600 euros to the local charity, proceeds from their musical theatre supper show 'The Good Old Days' which they performed at The Fiesta Plaza in early May.
One of the longest running theatre and drama groups in the area, the popular players are certainly not sitting back and relaxing in the summer sun as they are already preparing for their next supper show, 'A Magical Murder Mystery Tour' which will take place at the same venue, 27-29 September, more details of which we will have in due course.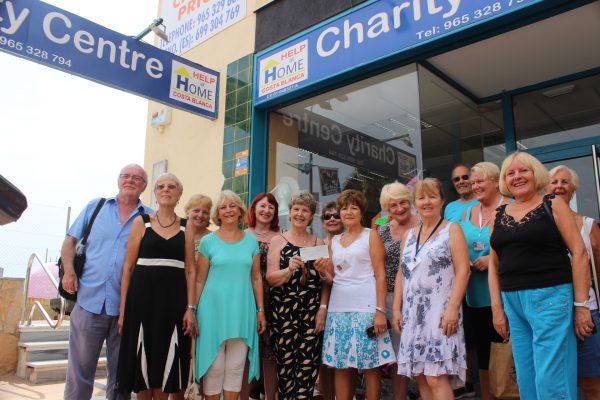 Meanwhile with the 'Bus Appeal' now topping 22,000 euro, Help at Home CB are not too far away from achieving their total.
Executive member Eileen Randall said "there is an urgent requirement for such a vehicle in the area, one that can provide much needed transport to those with mobility problems, transporting them to or from medical or hospital appointments or even shopping, perhaps with the occasional day out. We are close to achieving our target and in the not too distant future we are determined to have such a vehicle on the road."
Whilst similar vehicles do exist on the Costa Blanca the major advantage of the HELP at Home CB vehicle is that it will be available, not just to their own members, which is very much the case with other groups and organisations, but it will also be at the disposal of any member of the public with mobility problems that requires its use.
"We are now on the final lap," she continued "we are talking to car dealerships, as well as discussing the specifics of exactly what it needs to have fitted. We are also now looking out for suitable drivers, so that we can establish an appropriately trained team of individuals, who will be able to provide this important service in our name."
Of course while the appeal continues so do the day to day activities of this much relied on charity, with their shop in Playa Flamenca, a branch in Quesada, their very worthwhile and productive house clearances, work within the local community, carers and befrienders, as well as their recent involvement with Caritas, to whom they now make regular donations of foodstuffs, toiletries and consumables.
Indeed, as well as the donations for the shop, the board tell me they are now actively seeking donations of dry goods, tinned goods, baby goods, toiletries and the like, for the Caritas charity, which they will be delighted to store at the Playa Flamenca shop and to pass on to caritas, which, on the Orihuela Costa alone, is still supporting in excess of a hundred families on a daily basis.
One additional, but very current, project that the charity has now undertaken, is the provision of support to the Orihuela Orphanage, Amigos de San Jose Obrero. This children's home cares for 67 youngsters between the ages of 6 and 18, and has at least one local patron, the popular ocal entertainer and dedicated fundraiser Stevie Spit.
HELP at Home CB recently delivered a van load of furniture and other goods to the home which, with little help from the state, relies almost entirely on charitable donations. They are currently seeking help with books, clothing and shoes for the children, which will help enormously on their return to school in September, so if you are a local company looking to support a 'child related charity' speak to the ladies at the Playa Flamenca shop and they will be delighted to advise how you might best become involved.
As it continues to expand the charity is also looking for suitable office accommodation close to it's Playa Flamenca shop, which can be used as a 'drop in' or an 'information' centre. It will ideally have a little additional space that can provide a little storage.
And in terms of it's most appreciated asset….personnel! Volunteers are urgently required to work in the office or the shop, to work as drivers, befrienders or fundraisers. So if you can spare a morning a week, or even just the occasional couple of hours, especially during the summer months, please get in touch with the centre by calling: 965 328 794, by email: charitycentre.helpathomecb@gmail.com or by simply dropping in during any weekday morning.