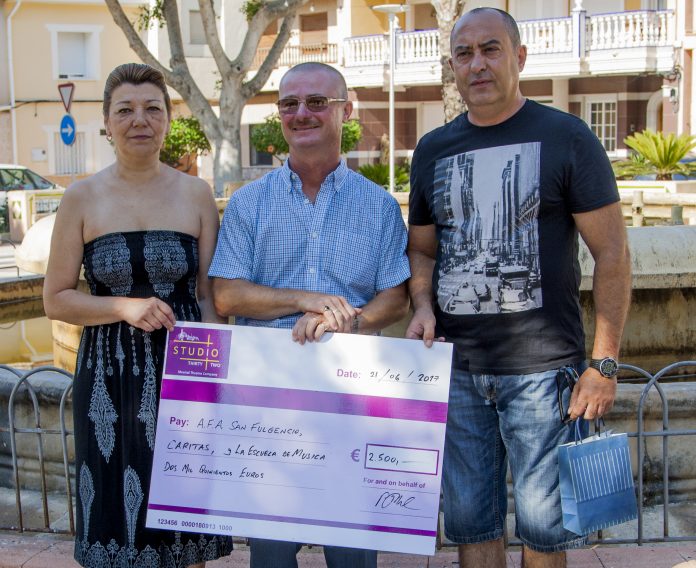 Studio32 are delighted to announce that their recent production of "Mack and Mabel" raised over 3,500 euros for local charities. Studio32's chairman Philip Wilson is pictured at San Fulgencio Town Hall with Benjamin Villena Rodriguez, President of the San Fulgencio Alzheimer's Society.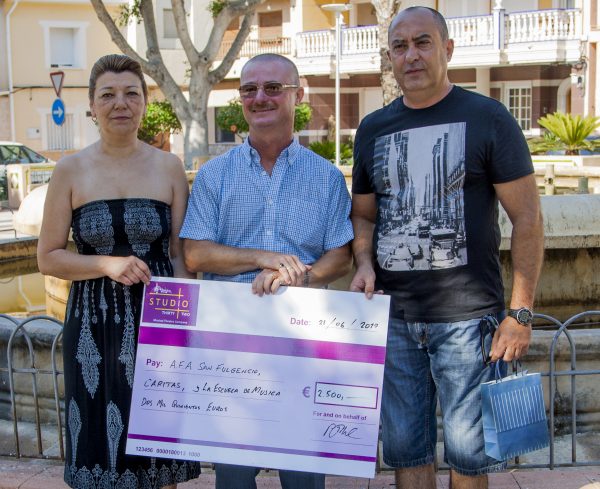 Benjamin thanked Studio32 for their continued support of the charity, which provides help in the community to families and individuals dealing with Alzheimer's. Studio32 were delighted to raise 2,250 euros for this deserving charity. Also pictured is Rosa Maria Mira from the San Fulgencio music school, who received 250 euros towards the purchase of instruments and music for students.
Philip explains the group's history: "Studio32 was set up four years ago to bring high quality full-scale musical theatre to the Costa Blanca, and through doing so enable us to support local charities. Everyone in the company worked extremely hard to make this show a great success and I'm very proud of them all. In only 4 years we've raised over 20,000 euros for local charities, and we will continue to support AFA San Fulgencio and local good causes in the coming year."
So what's next for this talented theatre company? They have just announced their winter show, the classic Irving Berlin show "White Christmas", which will be performed from Wednesday November 29th to Saturday December 2nd at the Cardenal Belluga Theatre in San Fulgencio.
Advanced ticket bookings are already being taken, so book early to avoid disappointment as this popular show is sure to sell out quickly. If you fancy getting involved the company are always keen to recruit more members, and not just on stage performing – they are currently seeking to expand their backstage and technical crew so why not get in touch to find out more. Full details are on their website, www.studiothirtytwo.org .