In the beginning of July La Nucía will be holding its increasingly well-known Medieval Market again. Since 2005 the old town centre is going back to its medieval roots in the weekend nearest to the 9th of July.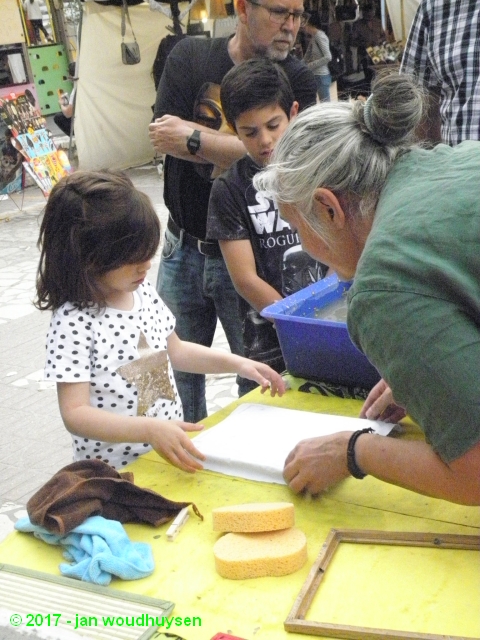 So, this year, on the 7th, 8th and 9th some 60 craftsmen and women have booked stands with Amata, the craft association organising the event. Amata has also invited music and street theatre groups, dancers and acrobats, as well as several craft demonstrators to liven up the market.
The square in front of the Town Hall and the streets behind will be filled with really interesting craft stands selling ceramics, leather bags, belts and shoes, glass, designer jewelry, carved and turned wood, carved stone, soap and perfume, patchwork and a lot more. In the food section there will be stands selling sausages, cheese, roast almonds and peanuts, bread straight from the wood oven, as well as a medieval tavern (roasting a whole pig on a spit) and a tent with Arab food.
To complete the medieval setting, troubadours, story tellers, falconers, people on stilts, buffoons and other typical characters of the era wander from time to time through the streets. You can even encounter gaggle of geese!
Children and young people can take a ride on a small merry-go-round or on a pony, have a try at pottery or making a sheet of paper, or play medieval table games. There is juggling, belly dancing and aerial acrobatics and the market closes every night with a spectacular fire show.
Amata is a craft association which tries to ensure that the only participants in the market are those who make all the material they sell – there's nothing imported and nothing is made in small (or big!) factories.
Amata and La Nucia Town Hall see eye to eye on this matter; there are far too many organisers setting up so-called medieval markets that are little more than pound shops in historic clothing. The craft tradition is tending to slowly disappear in Spain, which is why Amata has coined the term "artesanía de autor" to describe its unusual markets, roughly translated as "craft work made and sold by the craftsmen himself".
The Market will be set up in the old town centre – there is plenty of parking space in the (free) underground parking of les Nits, or the open air parking at the back of the village, both just 100 yards form the market.
The fun starts at six on the Friday, Saturday and Sunday evening (7, 8 and 9 July) and goes on till late at night. For more information phone 639 979 678 (English spoken) and if you want to look at photographs of last years' market, go to http://www.amata.es/LaNucia16.html