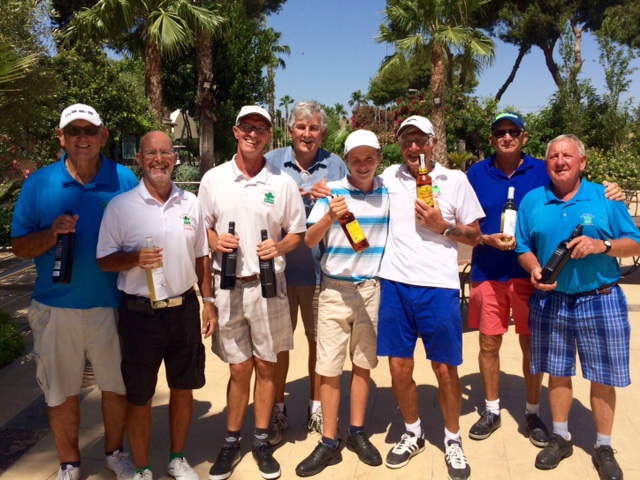 On Tuesday 13th June, 17 members competed in a 'Hidden Partners game. The ideal is for an even number of players in this game as in the event of an odd number, some adjustment is needed to be made at the end, with one player having two chances at winning. However, fortunately or unfortunately for one player, Lyn had to retire with a bad back, leaving an optimum number of 16. Get well soon Lyn.
Over the past few weeks, there has been a glut of Holes-in-One with 4 in the previous 3 weeks. However, regular visitor from the U.K., Henry Mellor had not registered an 'Ace' prior to last week, when he achieved one in the Elche 'Away Day'. His stated ambition was to get one on his home course and he duly obliged on the 90 metre Hole 9. Talk about waiting for a bus and two coming at once.
At the end of the competition, score cards were drawn to ascertain the winning pairing. Undoubted star was Kenton Wanty – excused from his school duties – who scored a superb 40 points, which, combined with Mike Williams' 31 points, scooped 1st prize.
Nearest the Pin, Hole 1 – John Wilby, Hole 8 – Ray Housley. 3rd Place, David Swann, Martin Rickman 61 points on C/B. 2nd Place, John Wilby, Laurence Wanty 67 points. 1st Place, Kenton Wanty, Mike Williams 71 points.
Picture Shows L. to R. David Swann, John Wilby, Laurence Wanty, Henry Mellor, Kenton Wanty, Mike Williams, Martin Rickman, Ray Housley.
If anyone would like to join our Society, we play at El Plantio Golf Club on Tuesday, Friday and Sunday. We use both courses – the Par 3 nine hole course and the main 18 hole course, so we cater for all abilities. The membership rates are very competitive, so call for more details. Anyone who wishes to play in the Society as a guest or join as a new member, contact Ian Henderson on 966 716 616 or 636 116 230
David Swann