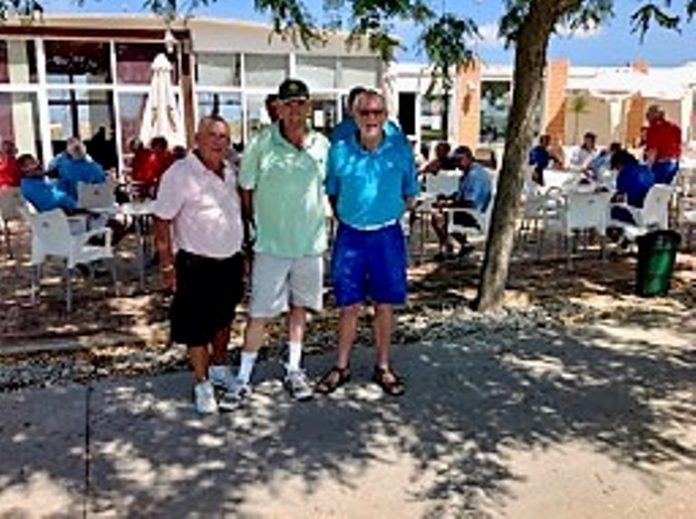 The soon to be extended Vistabella course was the venue for San Miguel Golf Society's first meeting in June where we experienced quite a bit of early cloud cover and even a slight chill in the morning wind, still – with our ageing membership the latter is quite a normal occurrence!!
As often happens, the stiff breeze soon shifted the clouds giving the sun a chance to warm everything up and by 11 o'clock all was as it should be in the weather department. Vistabella's tight and tricky layout however, never seems to let the actual golf game run as smoothly as it maybe should.
"Mister Consistency", Noel Bannon, was the one and only player who managed to beat par, proving my just-mentioned theory. 30 members and 4 guests attended the day with the following results:
Nearest the pins – Mike Maskell (4). Tony Smale (8) and Ken Frew (14).
Best Guest – Mike Maskell who very nearly cracked the magic "30 points".
BRONZE – 4th Chris Hamblett (30 c/b). 3rd Keith Wraithmell (30 c/b). 2nd Keith Stevenson (33). 1st Kyree Skarsmoen (35).
SILVER – 4th Theo Boelhouwer (30 c/b). 3rd Gerald Bannon (30 c/b). 2nd Steve Grundy (33 c/b). 1st Brian Mulligan (33 c/b).
GOLD – 4th Robin Eastman (34 c/b). 3rd Barry Roehrig (34 c/b). 2nd Darren Hancock (35). 1st Noel Bannon (37).
The "Abacus" bottle of fine red wine was taken away by Derek Johnston.
Our thanks go to all the team at Vistabella for their help in making the day a success and if you wish to know more about the San Miguel Golf Society, please visit www.smgs.org or telephone the Captain, Theo, on 694494824 to obtain the details of our weekly Wednesday meetings, next week we're at Lo Romero with a shotgun start.