The Masonic Homes of Valencia Association have presented a second, 4 wheel drive vehicle, to the Benedoleig Protección Civil. The presentation took place in the car park of El Cid Restaurant on May 31st at 1.0pm.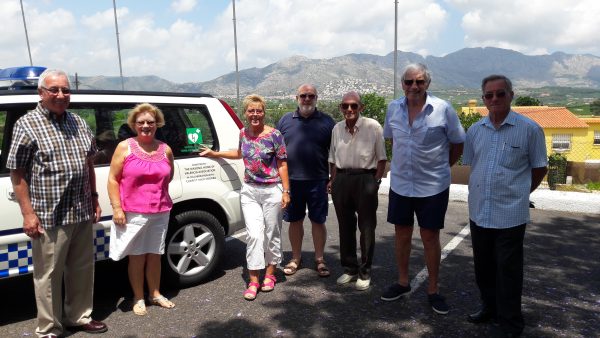 The Association made a similar presentation of another vehicle a few years ago, and last year also presented a water bowser on a trailer to be towed behind one of the vehicles.
The service they provide gives a more rapid response to people living out in the campo areas around Benedoleig and the other small villages of the Orba Valley area. Larger fire engines and ambulances coming from Denia have difficulty getting to these small places quickly, and these smaller vehicles can be vital in being first on the scene and providing the necessary help quickly.
The whole team of volunteers are well trained in all aspects of emergency work and each vehicle carries a vast array of equipment.
The Association operates a Charity Shop in Moraira, and is always pleased to receive donations of good quality clothing and other saleable items. On this occasion the presentation was assisted by a donation from the Charity Shop in Ondara, who last year presented a scooter for this excellent rapid response team.
If you would like to donate to this worthy charity or find out more about the work of the local Freemasons, please contact me on the following address.
prensa@glpvalencia.com