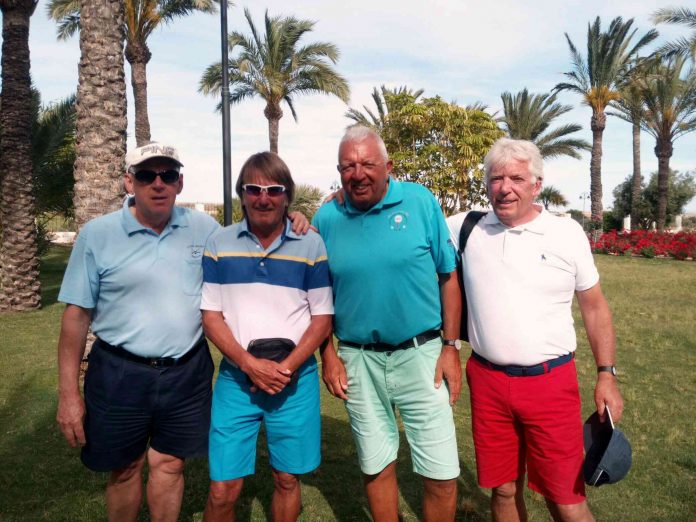 SMGS's final game before a large contingent make their way to Granada for an away weekend, saw 32 members and 4 guests turn up at the somewhat out-of-the-way course of Hacienda de Riquelme.
The course was in a reasonable state, with fairways leaving room for doubt about whether the winter rules approach should have been continued, but greens were in excellent condition, if a little on the slow side.
Scoring is never great from society members here, there is, however, always one stand out score, this time coming from Ivor Turkington, who was a "mere" 5 points ahead of the rest of the field with an impressive 39.
The day's competition results, by category and in reverse order, were the following:
Bronze Category: 5th Chris Hamblett (27), 4th Ron Stenhouse (28), 3rd Grattan Forber (29), 2nd Mike Jordan (30), and 1st Norman McBride with 31 points.
Silver Category: 5th Norman Cahill (28 on CB), 4th Ken Flaherty (31), 3rd Theo Boelhouwer (32), 2nd Phil de Lacy (33) and 1st, Brian Mulligan with 34 points.
Gold Category: 5th John Aitchison (31 on CB), 4th Mike Freeman (32), 3rd Steve Higgins (34 on CB), 2nd Barry Roehrig (34 on CB), and 1st, with a superb score of 39 points, Ivor Turkington.
The Abacus was won by Alan MacDonald.
Nearest the pins on the par 3's (open to all) went to Eva Pettersson (5), Mike Freeman (7), Phil de Lacy (15) and Alan MacDonald (17).
The Best Guest was John Humphreys with 29 points.
Keep up to date with all SMGS matters by logging on to our website www.smgs.org or simply give Theo Boelhouwer a call on 694494824 to find out more about the society and its weekly golf get-togethers. Next week we will be at Altoreal.