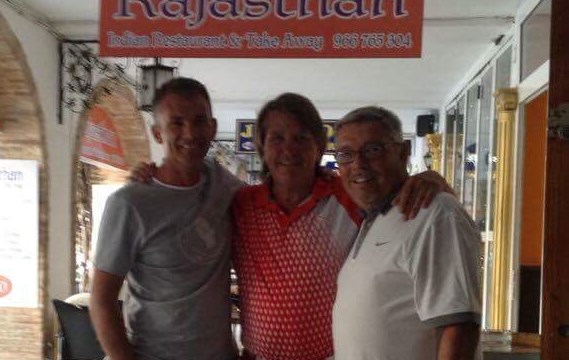 What a fabulous day for golf at El Plantio. With the rollover of the 2's from Roda, the pot was already 62€, surely with 4 par 3's someone would get a two, but no the 124€ rollover goes into the next game at Villamartin. Good luck everyone.
The nearest the pin was sponsored by The Ale House, a friendly bar at Villamartin Plaza hole 7 and 9 Steve Higgins, Hole 14 and 18 Darren Hancock and nearest in 2 on hole 16 was taken by Ray Pullen, each winning 10€ bar tab for The Ale House.
Our lowest place was taken by Ron Cain and our best lady was Shirley Cain, both having a bottle of wine to celebrate. Liz Sully missed out on countback. Barry Lane won the scratch card and kindly donated in to Charity
The CSS today was 31. Our best guest saw John Aird win with 19 points. Our silver division saw Richard Allen 3rd with 31 points collecting 20€, Ray Pullen was 2nd with 32 points collecting 30€ and Alan Harris won the silver division with a fantastic 34 points collecting 40€ Our gold division saw Barry Lane 3rd with 33 points collecting 20€, Darren Hancock with 34 points receiving 34 points and Steve Higgins scored an impressive 35 points collecting 35 points.
The report cant miss out that the legend that is John Griffths beat Spicer on points something that he will be remembering and probably be living off for the next few games well done John!!!
our next game on 2nd June at Villamartin is a sell out with all 48 spaces gone. The next available event is Friday 16th June at Villamartin, then during the summer we play every Friday. Booking is advisable in advance so you don't miss out. Keep up to date with our society via the website or our Facebook page.
www.theplazagolfsociety.com