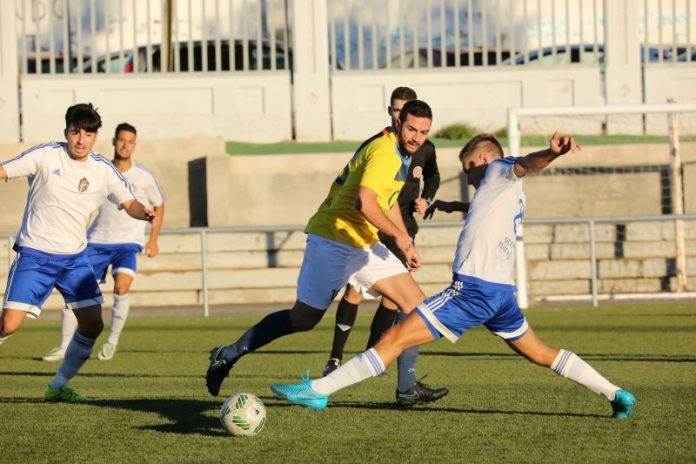 CD TORREVIEJA – 1 CF BORRIOL – 4 (BY STEVE HIBBERD)
Following 12 consecutive, mainly successful, years of national 3rd division football, Torry will next season be plying their trade in the Alicante regional preferente division. The good news is that this will involve more local football, with the furthest trip likely to be Benidorm, as opposed to Castellon region, where last Saturday´s opponents Borriol hail from. It will also mean lower wages, and hopefully a chance for supporters to witness more exciting entertaining football, challenging for play off slots as opposed to a constant battle against relegation. It hurts me to say it, but the writing was on the wall way back in mid December, when Torry slipped to a 2-0 reversal over at Borriol.
Since then, there was a period when a string of positive results appeared to arrest the threat of relegation, but a severe lack of goals put paid to any slim hopes of survival. There have been positives, and in Vicente they have a most gifted, dedicated and enthusiastic full back, who will no doubt be enjoying his football at a higher level next season.
He is not alone, for keeper Jose Carlos plus strikers Lewis and Pastor gave their all to the cause, but alas it wasn´t enough to save their team.
This meaningless end of season fixture started promising for the hosts, but the 1st half could and should have been productive. Vicente supplied an assist to Damian, who turned on the edge of the box before executing a sweet drive into the far corner of the net, giving them an early lead.
But before the break, they had missed 2 glorious opportunities to increase the lead, none more so than Borja who has been a huge disappointment since his arrival. He rounded the keeper, but somehow contrived to shoot wide of an open goal, which sort of sums up his prowess (or lack of it!) in front of goal.
It took precisely 6 second half minutes for Borriol to equalize, courtesy of a 20 yard drive by Adrian. Comically, Torry´s eccentric keeper Buba had caught the effort, but a strong wind carried both him and the ball over the line. A cross from the right by Julien was hammered home by Badre on the hour mark, then 15 mins later Colomer converted a penalty following a foul by Jorge inside the box, to make it 1-3.
Sub Lewis had an opportunity to reduce the arrears on 79 mins, but he failed to get a touch on an inviting cross with the goal at his mercy. A headed goal by Hector in stoppage time gave the visitors a flattering score line, signalling tears to flow from certain Torry players who probably won´t be wearing the blue and white shirt next season. So, wholesale changes to the team who lost at Paterna last week failed to produce a last day victory, leaving manager Pedreno to mull over his and indeed the whole backroom staffs future.
Torry line up: Buba, Vicente, Kana, Martin (Calzado 64), Jorge, Booker, Joel (Pastor 64), Nica, Borja, Damian (Lewis 64), Beltran.