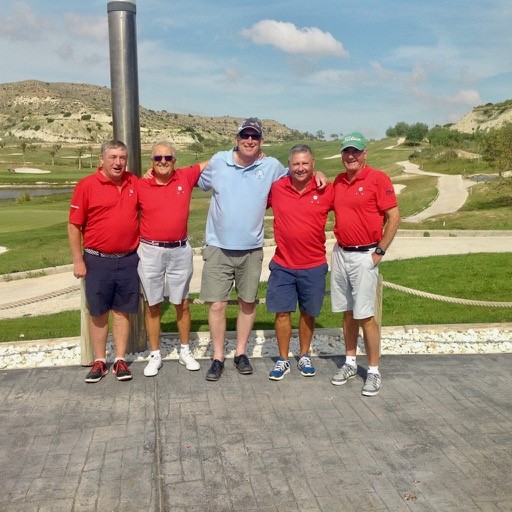 Thirty-eight members and 7 guests made their way to the somewhat tricky to find Font de Llop course, close to Aspe. A lovely day, but with the wind getting up later in the round, found the fairways a touch dry and clumpy, and greens in the process of being spiked and slow.
Two very differing results in the 2 matches played in this year's SMGS doubles match play competition. Barry Roehrig and Kenny Reddington fairly easily saw off Ron Stenhouse and Paul Cobain 6&4, but a major battle was had by the second group of pairings. It took to the 20th hole to decide the match between Ken Flaherty and his partner Robin Eastman and the duet of Mick Roscoe and Steve Davis, the former finally winning 1up.
The day's results were the following:
Bronze: 5th, Keith Stevenson (33 on CB), 4th Carmel McCann (33 on CB), 3rd Chris Hamblett (33 on CB), 2nd Marg Birtwistle (37) and 1st, with the best score of the day, Keith Wraithmell with 39 points.
Silver: 5th Mike Jordan (32), 4th Richard Cleary (33 on CB), 3rd Roger Webb (33 on CB), 2nd Steve Davis (35 on CB), and 1st Ken Flaherty, also with 35.
Gold: Ivan Hanak (31), 4th Ivor Turkington (34 on CB), 3rd Barry Roehrig (34 on CB), 2nd Jamie Rorison (35) and 1st Darren Hancock with 37 points.
Nearest the pins (open to all) went to: Steve Davis (3), Alan MacDonald (8), Ray Smithers (12), Alan Ewing (16) and Ivor Turkington (17).
The Abacus' bottle of wine prize went to Ray Smithers.
Our thanks go to the staff at Font de Llop. Next week we will be at Hacienda de Riquelme.
Keep up to date with all SMGS matters by logging on to our website www.smgs.org