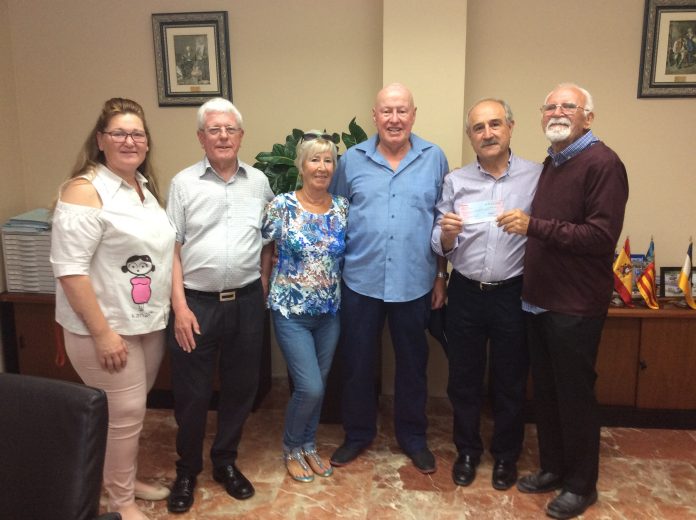 Mike Smith, President of The Rojales Pantomime group was pleased to present donations on behalf of the group to the SAT animal rescue centre towards the constructions of their new kennels. Julia Kennedy (Manager of the SAT kennels, Dolores) accepted the donation.
Paul Cunningham Nurses also received a donation, Sue Sellwood accepted this on their behalf.
The Mayor of Rojales received a cheque for 700 euros that will go to Rojales Social Service. The Mayor of Los Montesinos Jose Manuel Burton also received a donation for Social Services in Los Montesinos.
The group were asked if they would buy a musical instrument for the music school so a gift of a new flute was bought for the Escuela de Musica Los Montesinos, musical instruments are very expensive so they were very grateful for this gift as many parents cannot afford to buy their child their own instrument.
These were the proceeds from their last Pantomime Sleeping Beauty the total given amounted to 2,000 euros which was the total sales from their tickets.
The group are always on the lookout for new members who enjoy Pantomime and would like to participate in next years production (January 2018) with rehearsals starting in September this year.
Anyone of any age will be welcomed, no experience is necessary.
If you would like to join in the fun of pantomime in any capacity you can contact Thelma for more information 634 339 588 email rojalespantomime@gmail.com www.rojalespantomime.com