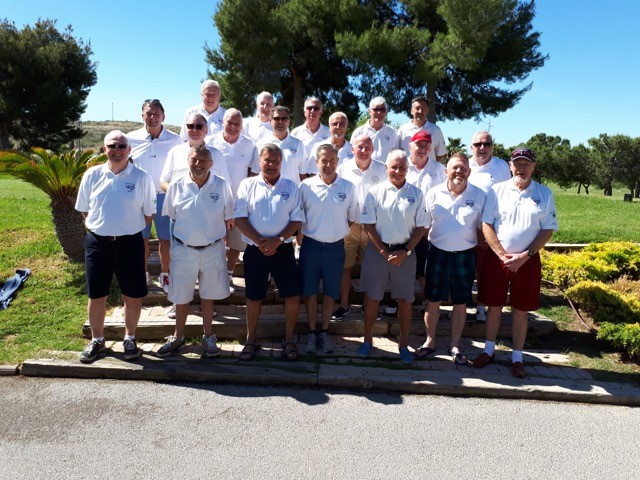 Players assembled on day one ……
Like a flock of migratory birds, 20 members and partners descended upon Bonalba golf course for the annual three day Wolfpack Open. The course was in lovely condition with a fair spattering of water on several holes ready to catch the right handed hooker. Several found that their magic touches had been left behind in the hotel – too late to retrieve them now.
A good days golf ensued in great weather, but the competition was intense. At the end of day one it was the northern contingent who were victorious – Bryan Hirst's 34 points put him top of the leaderboard on day one, second was Geoff Cogswell and third was Brian Laden.
Full of expectations of righting yesterday's wrongs, anticipations were high during pre round coffees. No one mentioned it, but secretly the thoughts were about who could infiltrate the northern cabal and get into the prize winning slots. The round was slow, very slow, not helped by a post midday tee time which ran 15 minutes late.
Peter McNeice won the day with his score of 32, he also shared the two's pot with Bryan Hirst. Not quite enough for Peter to break our northern brethren's grip but getting closer. The leader board after day two – Geoff Cogswell 63, Bryan Hirst, 62, Brian Laden 61, Peter McNeice 55.
A new day, a new dawn, a new chapter in the history of the Wolfpack Open. With all the wildlife on the course it was like playing at Chessington Zoo at times. Great to watch though. On the last day we played "Masters style" so the highest scorers were in the last fourball. Could Peter McNeice break the iron grip of the Northern boys was the question on everybody's lips.
A big ask, but there were lots of southern softies cheering him on. As we watched the final fourball approach the 18th green, it was difficult to read the body language, no back slapping, no high fives, no lifting the victor on their shoulders. At the end of the day Bryan Hirst was the Open Champion amassing 91 points, Geoff Cogswell was second on 88, Ray Phillips third on 84, Peter McNeice fifth with 81 and Brian Laden fifth on 80.
The most popular prize of the day and the one that got the biggest cheer was Denis Fox's nearest the pin on the 14th. Many congratulations gentlemen !