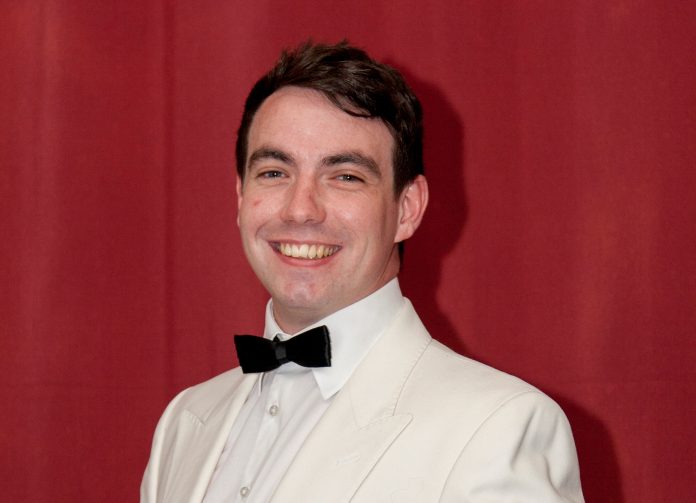 It's only a few weeks until STUDIO32's summer production "Mack and Mabel" hits town, and the cast are in their final rehearsals for what promises to be a spectacular show. Luke Ringrose (pictured) plays the role of real-life character William Desmond Taylor, a famous silent movie director who promises to make a star of leading lady Mabel Normand. And that's just what he did, turning her into a Hollywood legend.
This is Luke's second show with STUDIO32, having moved to Spain last summer, but he says he's thoroughly enjoying the challenge of playing such a smarmy character! The show is set in the silent movie era, spanning a period from 1911 to 1938, and tells the story of the tempestuous relationship between Mabel Normand and Taylor's rival movie director Mack Sennett. With some fabulous songs and dances from this talented theatre company, a tragic love story and some hilarious comedy audiences are set for a wonderful night's entertainment.
STUDIO32 are continuing to support the San Fulgencio Alzheimer's Association and local charities with this show. Past shows have raised significant sums of money and the company hope to repeat that with sell-out performances once again.
Show dates are Wednesday May 31st to Saturday June 3rd at the Cardenal Belluga Theatre in San Fulgencio, all performances start at 7.30pm with doors open 7pm. Reserved seating tickets are now on sale, priced at 9 euros, and can be obtained by calling Philip on 602 454 033, or by emailing tickets@studiothirtytwo.org. A seating plan is available on their website www.studiothirtytwo.org, along with lots of information about the company and past shows.
Tickets are also available from News 4 U La Marina, Cards & More La Marina, The Card Place Benijofar, and Kennedy's Supermarket Los Montesinos.