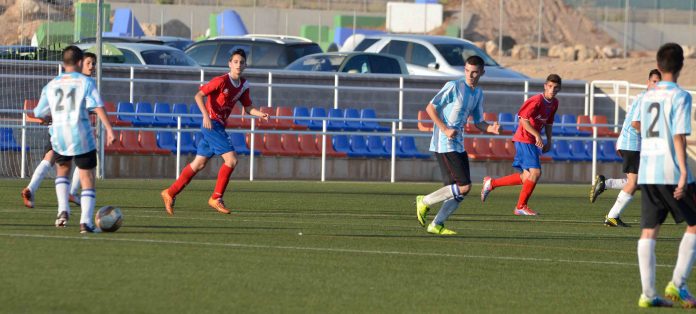 MAZARRON FC 3 CD PLUS ULTRA 0
Mazarron FC ended their home games in the regular season with a 3-0 home win against a CD Plus Ultra team who were fighting to avoid relegation.
Needing just one point from their last two games to guarantee a play-off position after Alquerias had only drawn 2-2 away to league leaders SFC Minerva in a morning kick off, Mazarron got off to the best possible start with a goal from young midfielder Andreo in the fourth minute.
Chino made it 2-0 in the 38th minute and scored his second and Mazarron's third goal almost on the final whistle to give the home team a comfortable victory. Chino, who started the season in the left back position, is now joint top scorer with Raul after moving into a midfield role.
It is a remarkable achievement for a Mazarron team which was only registered with the Murcia Football Federation literally hours before the deadline at the start of the season. A new team was formed under a new President, Ruben Manuel Martinez Collado, with a new administration and virtually a new squad of players except for long serving captain Juan Andreo and a few young players promoted from the junior team.
After four games Mazarron were bottom of the league with just one draw and three defeats but the squad has grown in confidence and ability and they are now hoping to regain their position in the Tercera Division of the Spanish League which they lost back in 2010 along with near neighbours Bala Azul who ahve already achieved automatic promotion.
Mazarron travel to Cartagena FC UCAM next week for their final away game before facing UD Los Garres in the two legged Play Off Semi Final.
Team: Juan Pedro; Raul Torrano; Adrian; Juan Andreo; Marcos; Boudia; Andreo (Raso); Cesar (Raul); Steven (Jimmy); Miguel (Dani); Chino.