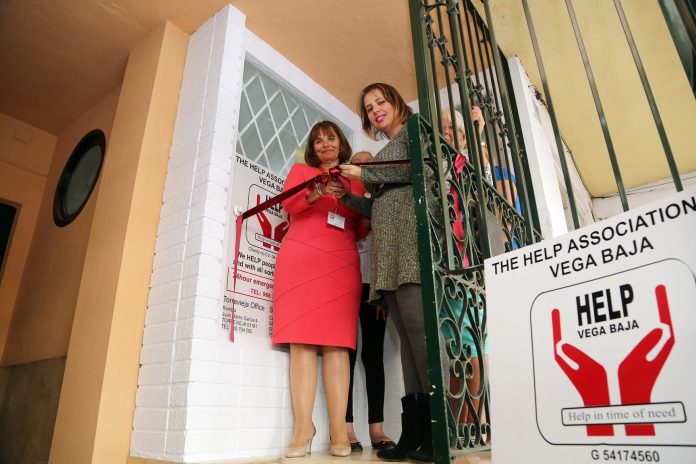 The Torrevieja councillor of NGOs, Carmen Morate, was on hand to formally open the new headquarters of the Expat Charity HELP on Monday along with its President Michele Masson.
In re-opening the centre, located in the Rambla de Juan Mateo, No4, the councillor said that it marks the establishment of a closer working relationship between the charity, the town council and OARI (the Office of Attention to the International Residents).
Michele Masson explained that the charity has been working in Torrevieja for 35 years and it is absolutely delighted to reopen its offices and to have forged a stronger relationship with the City Council which will be very much for the benefit of all those who need help. "It is a new chapter in the support we are able to provide to people living in the area," she said.
She said that the charity has about 1,600 members, of whom 1,400 reside in the region of La Vega Baja, adding that they feel "very fortunate because of the large number of people who help with their fundraising events, thanks to whom they managed to raise 26,000 euros last year that was used to support those local residents who were very much in need."
The charity helps people by providing information and supporting them with all sorts of problems within the Vega Baja area which includes La Marina and extends to Pilar de la Horadada.
They also have a centre in San Miguel de Salinas which includes a charity shop from which they can hire out mobility equipment and a Help Desk in La Marina.
The Torrevieja office is currently open on Monday, Wednesday and Friday from 10am to 1:30pm and our San Miguel office is open Monday to Friday from 10am to 1:30 pm. The Help Desk at La Marina is open each Thursday at the Hope Fellowship Church (Avda de Justo Antonio Quesada, Urb La Marina)
There is also have a 24 hour Help Line (966 723 733) which is available every day of the year for non-medical emergencies. A recorded message will provide the telephone number of a volunteer on duty.
Among HELP's other activities are visiting groups for patients in hospitals, a group of friends for those people who live alone, groups providing assistance and advice to diabetics or patients with Parkinson's disease, a social worker, lawyer, conversation group in Spanish, Craft classes and much more.
More information on the website www.helpvegabaja.com
NGO's
A non-governmental organization (NGO) is a not-for-profit organization that is independent from governmental organisations. They are usually funded by donations but some avoid formal funding altogether and are run primarily by volunteers. NGOs are highly diverse groups of organizations engaged in a wide range of activities, many of which have charitable status.