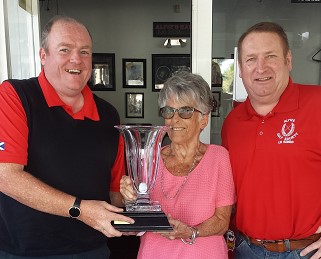 27 members and guests from Alfie's GS travelled to the lovely La Torre GC for the March meeting and the inaugural playing for the Terry Owen Memorial trophy. But on arrival we were greeted by a dense blanket of fog. This meant an hour and a half delay, but once the sun broke through it was a lovely day and like myself most members found the vast amount of bunkers and sand a challenge.
It was a very special day in Terry's memory, which was made even more poignant by the arrival of Terry's lovely wife Gill from the UK, who presented the trophy and didn't leave a dry eye in the place with her speech.
"Thank you very much Gill on behalf of every member of Alfies Golf Society"
Our winner of the day was Stuart Armour, with 37 stableford points. Second place went to Pavla Serakova with 36 stableford points. Best Guest went to Mark Atkinson with 25 stableford points
Nearest pin in 3 on hole 7 – Sponsored by 'The Celtic Drop bar' went to Pavla Serakova, Nearest the pin on hole 5 – sponsored by 'The Street restaurant 'went to Pavla Serakova, Nearest the Pin on hole 13 in 2 shots – sponsored by 'Alfies Bar' went to Mark Atkinson, Nearest pin on hole 15 – Sponsored by 'the Auld Dubliner' went to Nigel Glasson, The Blind pairs was won by Hugh Graham and Ian Harkness
Many thanks to our sponsors, our committee for their hard work in the background, to Mike, Sandra and their new partners Rosie and Jim at Alfies Bar for the very lovely after match buffet and refreshments, and to Mike Probert from Costa Blanca Green Fee Services for arranging our day.
Our next meeting of the year is 'Presidents Day' at Mar Menor on Thursday, 27th April. Guests are more than welcome. First tee time at 9.00 am. Should you want to play, please use the entries box on the notice board at Alfies Bar, La Ronda CC, Lomas de Cabo Roig or contact our match secretary Joe Murphy at matchsecretary.alfiesgolf@gmail.com
Shaun Staplehurst – Captain 31st March 2017