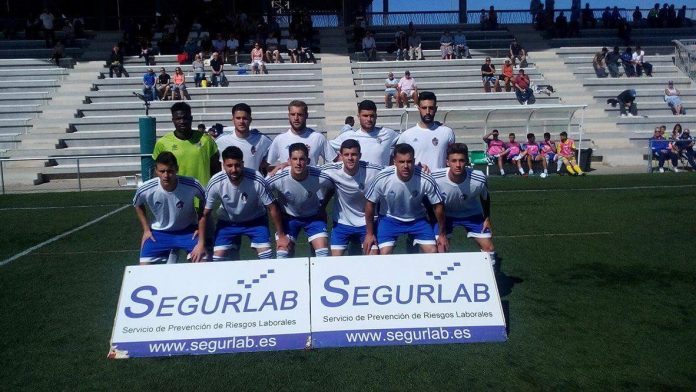 CD TORREVIEJA – 1 CF TORRE LEVANTE – 0 ….. BY STEVE HIBBERD
Things are looking good over at Nelson Mandela Stadium, for Torry are still very much on target to achieve division 3´s great escape. Last weeks bad defeat at Silla certainly didn´t seem to phase them, for they looked every inch the equal of 9th placed visitors Torre Levante.
Back in November, Torry were comprehensively beaten away at Valencia based side, which always seems to be a bogey venue for them. Although serving a ban for his dismissal at Silla, manager Pedreno could still be heard booming out instructions from the stands. Also banned was Martin, whilst both Lewis and Luis Carlos were surprisingly relegated to the bench.
Maxi beat Torry´s offside trap on 19 mins, and only a superb last ditch tackle by Calzado denied a goal scoring opportunity. Ex Torry veteran Ruben Suarez sent shivers up Torry fans spines, when 2 mins later he sent a 20 yard free kick a fag paper´s width over the bar. It took fully 32 mins before Torry troubled visiting keeper Kilian, Borja forcing a save before Duran blasted the rebound into space.
Buba came to his sides rescue on 40 mins, saving well with an outstretched leg from visiting striker Garcia. Just before the interval, Borja should really have opened the scoring, but Torry´s front man wasted a glorious opportunity when he shot wide of an open goal from close range.
Duran forced Kilian to tip his long range effort over the bar on 52 mins, as Torry started the new half with more vigour and invention in their play.
Torre Levante had probably their best effort of the match on 58 mins, when Cristian headed wide from an inch perfect cross from the right. Molina was the next player to miss a guilt edge chance, scuffing his shot on the hour mark, giving Kilian a bread and butter save to make. This end to end encounter had certainly livened up, as first Reyes headed over for the visitors on 62 mins, then Torry´s Borja was guilty of another glaring miss 2 mins later.
Mr unpredictable Buba made another important save on 74 mins, bravely diving at the feet of Max, just as he was about to pull the trigger. Going into the final 5 mins, sensing the kill, Torry threw everything into attack, a move which was to reap just rewards. Pastor could not direct his headed effort into the net, but into stoppage time fortune favoured the brave.
Earlier in the half, Pedreno had introduced strikers for defenders, in a bid for that elusive goal. Enter Lewis, who picked up a sweet assist from Pastor, before swivelling then thumping a bullet of a strike past Kilian into the back of the net. Mission accomplished. Mention must be made of referee Navarro, who officiated the match intelligently, and it´s a shame we can´t have him every week.
Torry visit Elche on Sun 9 Apr (ko 6pm) to play Ilicitano (check club website for details on venue), then on Thurs 13 Apr (ko 5.30pm) relegation threatened Almazora visit Nelson Mandela Stadium