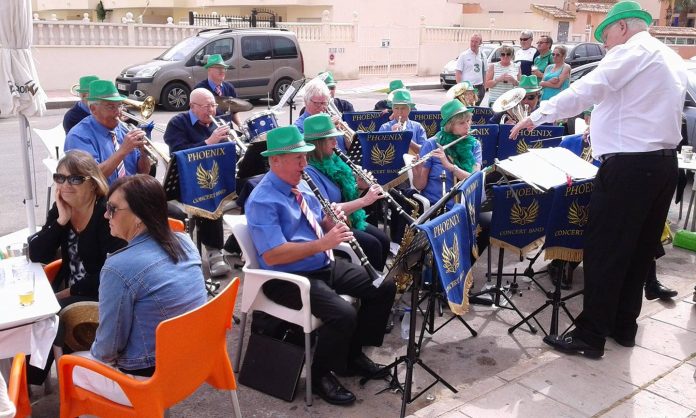 The Phoenix Concert Band are pleased to announce the appointment of the new Musical Director, Mr David LAST. David has vast experience in the musical world including boy soldier at the Home Counties School of Music, Kneller Hall School of Music, serving with the Queens Regiment.
David went to Australia and on return took up a position as Principal at Lyceum School of Music, Manchester. Had his own youth band. Woodwind player with the Royal Artillery Band TA.
The Phoenix Concert Band was originally formed in 1996, then named, "The Alpengold Show Band, later changing the name to "The Phoenix Concert Band,"
We play a wide variety of music, from songs from the musicals, marches ballads, sing-a-long, Novelty pieces, We play Carols and hymns for special services and special occasions. 15 years Carols in the Square,Torrevieja.
There are vacancies for musicians, in all sections, brass and woodwinds, these vacancies need to be filled BY YOU
Come along and have a chat with us over a coffee or contact us by phone or email for further information. We are a friendly bunch and you will be made welcome.
We rehearse every Tuesday from 2.pm. – 4pm. In San Miguel.
Contacts: Pat Shepley. Tel:646.031.584. Email: mspatshep@hotmail.com
Bill Singleton.Tel:634,310.309.Email: rytethen@gmail.com