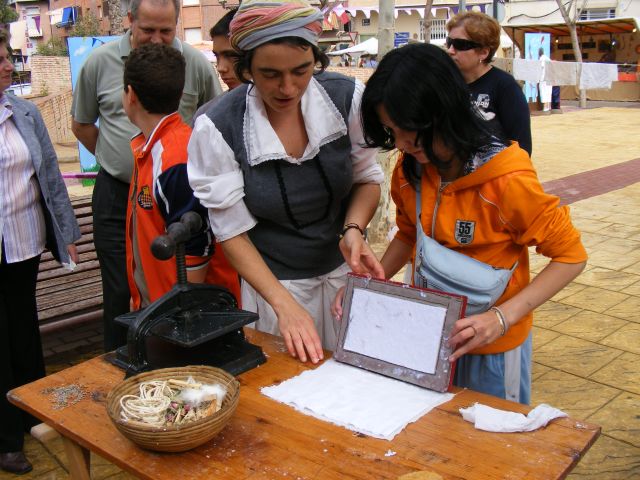 If you ever thought of visiting Alcalá del Júcar, one of the pueblos más bonitos de España (the most beautiful villages of Spain), Easter might be an excellent time. That is when, for the fourth year running, a lively medieval fair will be held, adding an extra attraction to all the rest the town has to offer: waterfalls, a sandy beach, narrow streets and picturesque little houses, a castle, woods, sandstone cliffs, caves and plenty of accomodation, from simple B&B's to 5 star hotels and lots of good restaurants.
At the foot of the village, next to the Roman bridge over the Júcar river, some thirty five stalls will be set up with ceramics, with wooden toys and leather handbags, with painted T-shirts, hand made shoes and sandals, design jewelry in silver, ceramics, wood, silk and recycled materials, puppets and soft toys and even small items of furniture made of recycled wood. A blacksmith will be at work in the fair and you can have a go at making your own sheet of paper. All participants will be dressed up in medieval style while a group of medieval minstrels and a juggler add life to the event.
Amata, the craft association which created and registered the "Artesanía de Autor" label, will be organising this market for the fourth year running. Amata is a craft association dedicated to preserving and enhancing craft work in Spain, which is gradually disappearing as more and more markets are being held with cheap and tasteless goods on the stalls . Amata inspects workshops, critically examines how goods are made and who makes them, checks that what is on the stall is made by the people on the stall – a guarantee that any visitor to the market will find goods that are original and of good quality.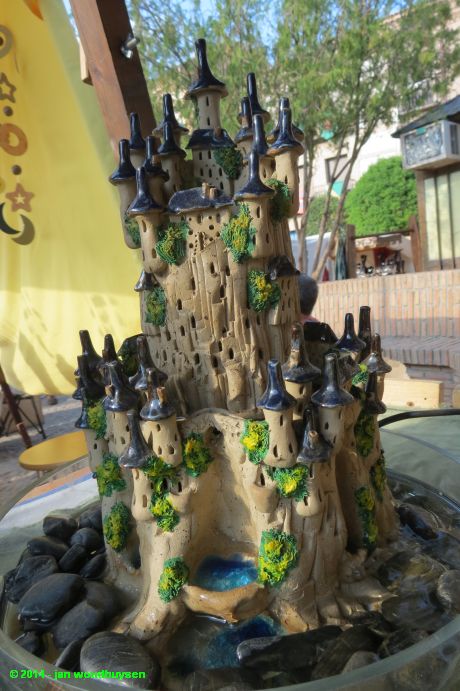 All is set up in the shade of some high trees at the foot of the hill on which Alcalá del Jucar is built, almost next to the river. What a lovely place to spend a day – there are plenty of restaurants nearby and the town itself is a delight to visit, with a Roman bridge, three large caves and its own impressive castle; visitors can also enjoy numerous activities such as horse riding, rafting, fishing, climbing and various guided walking tours. One of Spain's many "caminos de Santiago" (the pilgrim routes to Santiago de Compostella) passes through the village and for people who don't want to follow a guide nor walk the odd 1,000 kms there are a number of sign-posted local walks.
The Market opens on Thursday afternoon at 6 pm; on Friday, Saturday and Sunday opening times are from 11 to 2 in the morning and from 5 till late in the afternoon and evening and on Monday only in the morning from 11 to 2. To get to Alcalá del Júcar follow the main A31 autovia from Alicante to Madrid and turn off some 10 kms. past Almansa; exit 136 towards Alpera. From Alpera the road is well signposted to Alcalá del Júcar.
Photographs of last year's event can be found on the Amata web page http://www.amata.es/Alcala16.html, also in English) and for more information you can ring Elvira (who speaks English) on 639 979 678. If you want to stay overnight, it's a good idea to book beforehand: for accomodation or excursions you can ring the tourist office on 967 473 090