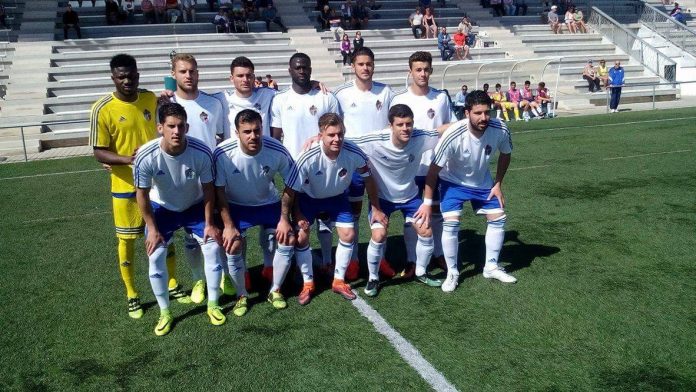 CD TORREVIEJA – 4 CD SEGORBE – 1 (BY STEVE HIBBERD)
Spirits needed to be lifted after last week's disappointing home defeat, so this emphatic victory over lowly Segorbe certainly fitted the bill. Remember the 80s pop group Duran Duran, well on Father's day at Nelson Mandela Stadium, a certain Torry number 8 went one better, now wishing to be known as Duran Duran Duran!!
What a way to end his goal drought, scoring a 19 minute hat trick in emphatic style, whilst turning the match on it´s head.
Having completely dominated proceedings, Pedreño´ s men found themselves trailing after 53 mins, seemingly powerless to find that elusive goal. Enter senor Duran. He was certainly ´Hungry like the Wolf´ in the way he executed his goals, whilst his enthusiasm became infectious amongst a previously subdued set of colleagues.
Void of 4 key players through suspension and injury, Pedreño must have thought the worse for this important (they all are from now on!) fixture, having set his squad a target of 44 points to avoid the dreaded drop. So to go into half time goalless, even though the hosts had virtually all the play, must have infuriated the walrus like manager.
As early as the 1st min, when Molina had a glorious chance with a close range header which was easily saved, Torry looked more likely to come out on top. In fact the only on target 1st half effort from Segorbe arrived a minute later, courtesy of a Cesar long range speculative lob which Buba did well to gather.
Molina thought he had opened his account for Torry on 8 mins, but he soon came back to ´Planet Earth´ on realising an eagle eyed linesman had flagged offside. Duran first arrived on the scene after 21 mins, his firm drive rattling the woodwork, before Molina forced a good save from the rebound.
Further strikes from Duran, Molina and Lewis, failed to make a change to the scoreboard, but worse was to follow early into the new half.
Everything looked hunky dory when a fierce 20 yard Lewis free kick forced a brilliant acrobatic save from Segorbe keeper Carlos, but inexplicably everything suddenly went black! An fine solo run to Torry´s goal line by full back Jorge, culminated in a dangerous low cross to the far post for an unmarked Cesar, needing only a simple tap in to put his side ahead.
At this stage it was a case of ´Save a Prayer´, for it looked like all the hard work had been undone, but how wrong can one be! A loose ball fell to Duran on 62 mins, confidently slammed home from close range, then 4 minutes later he came up with ´The Reflex´ header from a corner, before finally completing his salvo by scoring direct from a corner on 81 mins. Goal of the match was saved until near the end, a Vicente cross majestically headed home by leading marksman Pastor.
Not only did this result complete a double over seemingly doomed Segorbe, but it propelled Torry out of the relegation places for the first time since September. On Sun 26 Mar, Torry visit Silla in confident mood of yet another 3 points in their quest for div 3 survival.