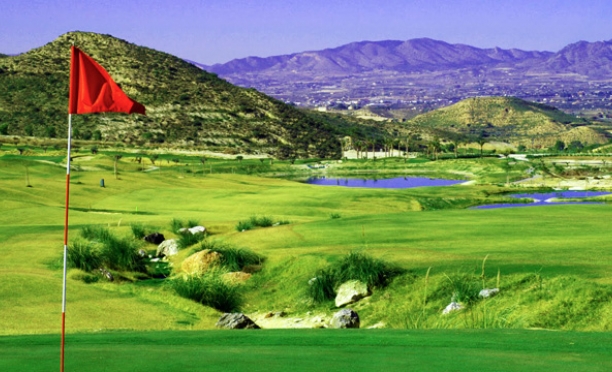 Today we made our way up the Motorway to Font de LLop Golf for our February away day. Weather very good with lovely sunshine but when we arrived we found we had to battle the dreaded wind which did not make for easy golf. Course in very good condition with its winter coat on and the Greens were very slick.
Having said that some very good scores were returned. Geoff Wild came in with 40 points, after having a blob on the first hole, to have the best score of the day and take first place in the Silver Category. The Handicap Secretary has got his knife sharpened. In Second place was Ken Hopkins with 33 points and Andy Billings took 3rd place with 27 points.
In the Gold Category Ron Chambers scored 32 points for his first win for a long time. In Second place was Malcolm Anderson with 29 points and in Third place was Mic Hithersay with 28 points Nearest the Pins were Hole 3 Arthur Williams Hole 8 Malcolm Woods Hole 16 Malcolm Anderson and Hole 17 Geoff Wild. Ron Chambers took the Longest Drive.
After the game we made our way back to Charlies Bar in Torreta 11 for the Presentation and Roxies Refreshments supplied by Charlie, which this week were Ribs and Roasties ,and were they Brilliant.!! The 14th March we are back to Vistabella for our Home game first tee 09.00.
Please be at the course by 08.15. Anyone who would like to join our Society or just to have a game with us please contact Ron on 678 849 142 our email sanmigron@gmail.com