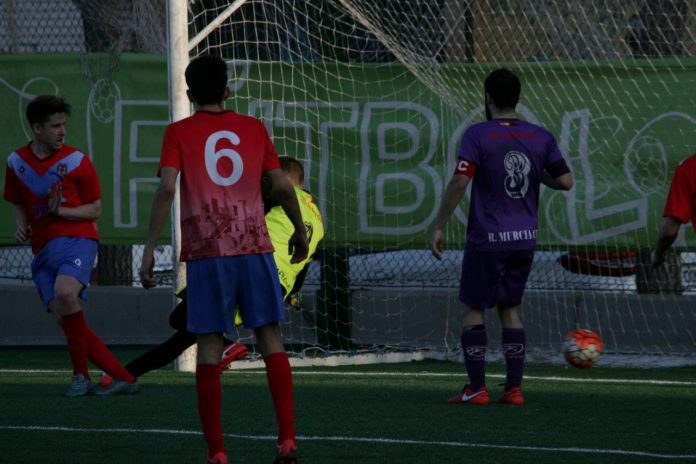 Mazarron twice came from behind to earn a point away to Racing Murcia City. Mazarron started the game brightly and Chino and Marcos combined well on the left to set up Javi Torramo whose near post header was saved by the Murcia keeper. Then Chino cut inside from the right and hit a tremendous left foot shot which crashed against the crossbar.
It was almost half an hour before Pablo in the Mazarron goal was tested when he dived to save Mario's shot from the edge of the penalty area. Despite Mazarron's early dominance it was the home team who took the lead after 39 minutes when ex Mazarron favourite Willy raced through the visiting defence before slotting the ball past Pablo.
Jimmy replaced Chino at half time and Mazarron were level after 49 minutes when Javi Torrano's cross from the right was superbly headed home by Miguel. However, Murcia regained the lead on the hour when uncharacteristic hesitation from captain Juan Andreo allowed Luis a free run on goal and he made no mistake with a firm shot past Pablo.
Mazarron were denied a goal after 78 minutes when a superb ball from substitute Ruben saw Jimmy using his pace to outstrip the home defence only to be hauled down on the edge of the penalty area as he was about to shoot. Luis was sent off for the tackle but this was little consolation as the resultant free kick from Javi was saved.
Five minutes later, however, Mazarron got a deserved equaliser when Dani's free kick was only half cleared to the edge of the penalty area where Boudia struck the ball sweetly into the corner of the net.
Team: Pablo; Raul Torrano; Boudia; Juan Andreo; Marcos; Andreo; Dani; Cesar (Ruben); Javi Torrano; Miguel; Chino (Jimmy)
Man of the Match; Miguel.