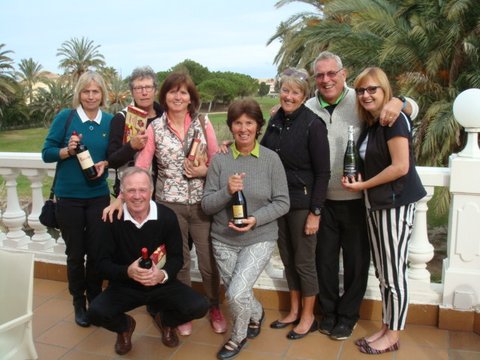 On Friday 10th February Montgo Golf Society played a medal competition at Oliva Nova, kindly sponsored by Brian and Penny Barden. It was a real day for the girls who made an almost clean sweep of the prizes, with only John Snelling being able to save the faces of the boys.
John continues to be the man to beat, winning his second competition in two weeks with a fine 70 off 10.7. In second place was Francien Knoops with a net 73 off, pushing Gerian van Ooijen (6.9) in to third place on countback. Feli Baybut completed the rout of the men by taking fourth place with a net 74 off 14.1.
When it came to the nearest the pins the men fared little better. Again John Snelling was the only man to figure in the prizes by winning the 3rd, whilst Denise Cooper won the 5th and Francien Knoops took the 16th.
Ros Fletcher ensured nobody else had a chance of winning the prize for the nearest to pin with their second shot on the 18th by holing her approach to record the societies first "eagle" of the year, and to grab herself a coveted Montgo trophy ball. Geoff Willcock recorded the only other two of the day but missed the photo shoot, ensuring Mr Snelling looked like a bloke out on a hen do!
Our next event is on the 24th February, when we will be playing a Magic 3 stableford competition at Oliva Nova, sponsored by Nigel Siddall. Guests are welcome, subject to availability and a current handicap certificate, and should register by visiting the website and completing an online booking form.