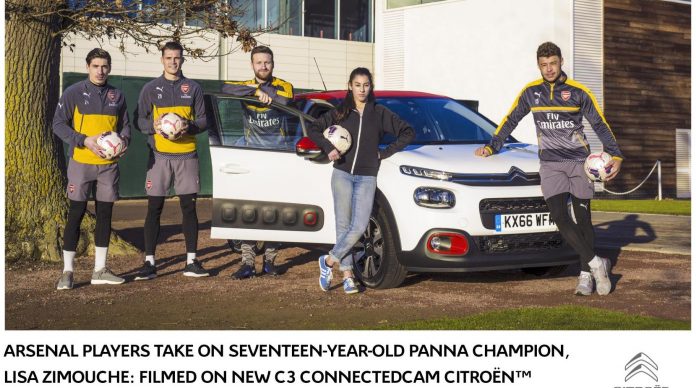 Citroën has captured exclusive footage of four Arsenal first team players going head-to-head with seventeen-year-old freestyle footballer – and 2014 World Female Panna Champion – Lisa Zimouche, filmed on New C3's ConnectedCAM Citroën™.
Arsenal players Granit Xhaka, Alex Oxlade-Chamberlain, Hector Bellerin and Shkodran Mustafi have been caught on ConnectedCAM Citroën™ in a 'nutmeg' challenge against Lisa Zimouche, the 2014 World Female Panna Champion.
Panna involves a one-on-one contest, in which participants attempt to nutmeg their opponent and retrieve the ball on the other side. It requires skill, technique and patience. The art of Panna has recently become famous due to the widespread coverage of football freestylers such as Séan Garnier and Sofiane Touzani, who regularly post popular freestyle videos online.
Lisa Zimouche is one of the youngest football freestylers in the world, having been named Female Panna World Champion at the age of 15. With over 600,000 followers on Instagram alone, Lisa is already somewhat of an internet sensation with fans taking delight at her ability to embarrass her male counterparts.
In the video, Lisa goes head-to-head with each player. Xhaka survives despite ending up flat on his back, Oxlade-Chamberlain traps the ball between his legs narrowly avoiding defeat before Mustafi is turned inside out with an incredible nutmeg, much to the delight of his teammates.
The footage was caught on ConnectedCAM Citroën™, a technology that made its world premiere on the New Citroën C3 when it went on sale in the UK in January. Featuring a wide-angle HD camera (positioned just behind the rear-view mirror) and a 128GB memory, ConnectedCAM Citroën™ can be used to safely take photos or videos that can be instantly shared via social media using a free app. It also operates as a conventional dashcam in the event of an accident.
To watch the Lisa Zimouche challenge the Arsenal players, visit: https://youtu.be/7idJJyQRaS8
For more information on New Citroën C3 visit www.citroen.co.uk/c3
FOLLOW CITROËN ON TWITTER AT: www.twitter.com/citroenuk
FIND CITROËN ON FACEBOOK AT: www.facebook.com/citroenuk
FOLLOW CITROËN ON INSTAGRAM AT: www.instagram.com/citroenuk
The Citroën brand:
Citroën harnesses creative flair and technology to enhance well-being. Since 1919 Citroën has made a major contribution to putting cars within reach of the general public, providing practical and purposeful answers to the questions arising in each era.
Citroën cars today place a premium on design, comfort and useful technology. With 10,000 customer contact points and presence in over 90 countries, Citroën sold 1.2 million vehicles worldwide in 2015. The brand has also amassed eight manufacturers' titles in the WRC and three Manufacturers' FIA World Championship titles from the 2014, 2015 and 2016 WTCC seasons.