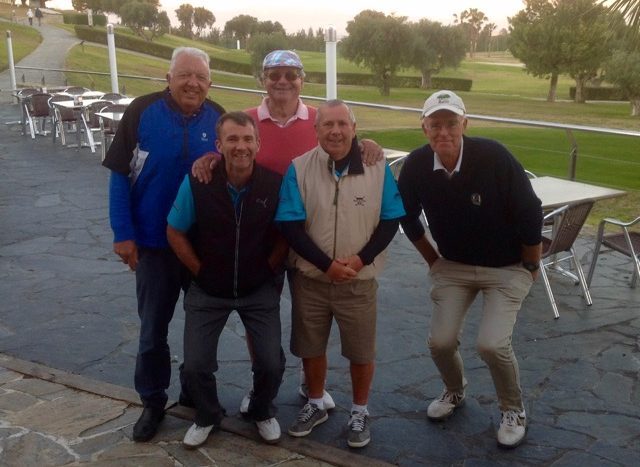 Following last week's cancellation at La Serena due to SNOW, 39 members and 1 guest gathered for the first round of this season's Bogeys Shield, a medal competition sponsored each year by Bogeys Restaurant, Villamartin Plaza.
The course was in reasonably good condition, weather initially breezy but improving as the round went on, but the long set up and some tricky pin positions led to some quite average scoring. Tony Sims had the stand out score of the day (69), the third time he has done so in the society's last 5 outings and his last 3, so clearly a man in form, with Tony Smale and Darren Hancock the nearest contenders with 73's.
One singles match was played in this year's SMGS individual matchplay competition, with Kyree Skarsmoen soundly beating Barry Roehrig 5and 4.
The day's medal competition results, by category and in reverse order, were the following:
Bronze Category: 5th Keith Stevenson (85), 4th Norman Padmore (82), 3rd Norman McBride (78), 2nd Chris Hamblett (75 on CB), and 1st Kyree Skarsmoen also with a 75.
Silver Category: 5th Phil de Lacy (80), 4th Ken Flaherty (78), 3rd Theo Boelhouwer (77), 2nd Mike Inns (76), and first, way ahead of the rest, Tony Sims with 69 points.
Gold Category: 5th Bjorn Pettersson (79 on CB), 4th Barry Roehrig (79 on CB), 3rd Ivan Hanak (78), 2nd Darren Hancock (73 on CB), and 1st, again with 73, Tony Smale.
Nearest the pins on the par 3's (open to all) went to Paul Fisher (hole 3), Darren Hancock (6), Colin Rust (13) and Mike Frankish (16).
Nearest the pins in 3 went to Darren Hancock (Gold, hole 7), Tony Sims (Silver, hole 11), and Paul Cobain (Bronze, hole 10).
The Abacus was won by Eva Leidstrom.
Our thanks go to the staff at La Finca golf course for their contribution to the day.
Keep up to date with all SMGS matters by logging on to our website www.smgs.org or simply give Theo Boelhouwer a call on 694494824 to find out more about the society and its weekly golf get-togethers. Next week, February 1st, we will be at Las Ramblas.