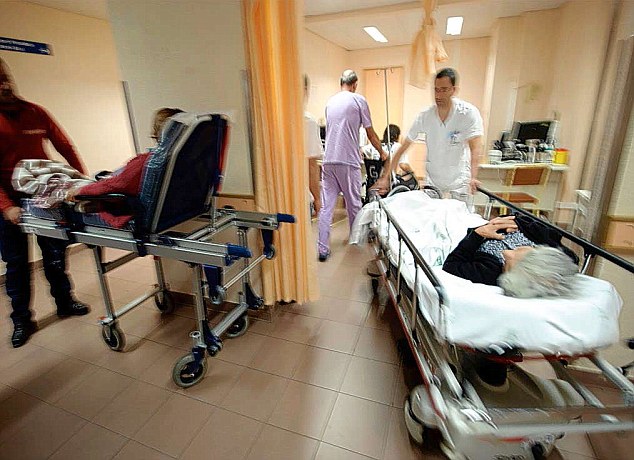 In the Valencian Community the level at which a disease or an illness is gauged as having reached epidemic proportions is when is surpasses 80 cases per 100,000 inhabitants. According to the Ministry of Health on Wednesday, flu was then being calculated at 120 cases per 100,000 inhabitants.
According to the unions the results are that waiting times for emergency and observation patients are creeping toward the 40 hour mark. However the hospital maintains that they do not exceed 12 hours and that this will be reduced as the service has now been reinforced with the addition of extra staff.
The union statement said that the emergency department at the Hospital has been "saturated since last Friday due to the cold wave we are suffering in the region as well as the flu epidemic, with patients waiting up to 40 hours to be admitted. According to the same source, this there is also a lack of space in the hospital which is compounded by a lack of staff.
They say that the Director of Nursing had proposed to Emergency staff that they could do extra shifts, but that this solution is impractical because some employees are already working beyond their contracted hours.
As a result the union has requested an urgent meeting with the Director of Nursing in order to confirm that he will be able to implement a contingency plan, "but to date we have had no response".
The union has also asked what plans there are should the hospital run out of beds, as has happened in previous years. It is said that there is a margin of about forty private rooms that are only opened in exceptional situations. They want to know if these rooms will in fact be put into use.
However the management's version of the current situation at the hospital varies enormously from that suggested by the union. They say that there are no abnormal influenza-related problems in the hospital, although there has been an increase in the number of patients suffering from respiratory conditions, which is typical for the time of the year.
They also assure the public that the twelve-hour stay in observation is not exceeded at any time prior to hospitalisation or to discharge, and more importantly, management maintains that the situation, which has been planned for, is under total control. Despite increases to the number of admissions it is still not too different to the situation experienced in other years, and twelve more doctors and nurses have also been added to the existing staff in the Emergency and Hospitalisation department.
Torrevieja Hospital serves a potential population of 160,000 residents of Torrevieja, Orihuela Costa, Formentera, Guardamar and Pilar de la Horadada, among other municipalities of the Vega Baja. Torrevieja Health is managed by Ribera Salud, which has in excess of one thousand staff.