There were a few problems this week with some teams not being able to play because of the inclement weather and flooding or because the fixture dates had changed and they had either made alternative plans or were unaware of the changes. Please can these teams organise to play those games within the next two weeks or no later than Wednesday February 8th. The final game of the firt half of the season is on February the after which the league will split into two.
180's: Sean Smith x 3 (Hyenas), Merv Harley x2 (Masseys), Alan Havelock (Ale House), Dave Wright (Jackals), John Eyre (Hyenas), Alex Nikolov (Jackals), Des Field (Masseys), Tim Goodacre (PH Bees), Jeff Ward (Porter House)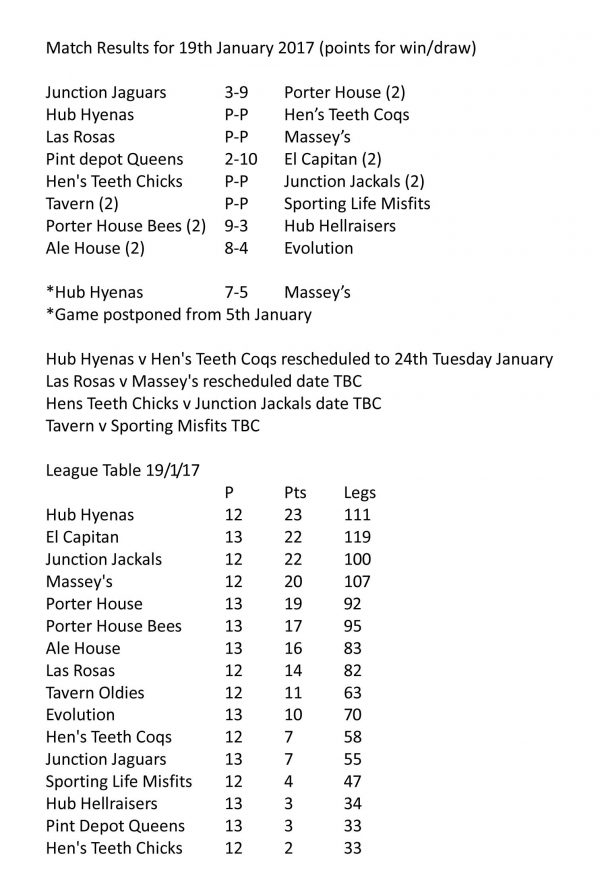 171's: Simone de Lacy (Jaguars)
Highest finish to date: Des Field (Massey's with 136.
Featured Match: Hub Hyenas v Massey's
This match was postponed from January 5th when the Hyenas could only muster 3 players. On this occasion however, Massey's could only get 5 together so were up against it at and playing away. By all accounts though they put up a very good performance. Up first for Massey's were John Williams, Des Field and Craig Miller (100) but the Hyenas got off to a better start with John Eyre (85), Joe Miller (125) and Nick Spicer's 140 and a 103 out with S20-T17-D16! In the 2nd triples, there was little the pairing of Russ Stevens and Pete Smith could do against our old friend Paul Durrant who hit 83, 84 and S5-D20 out for the 2nd leg with team mates Holtham (100) and Cpt. Si Willams. Fortified with 3 players in the 3rd triples, Williams (93) Field and Miller (105, T19-D18) got the first leg point for Massey's despite some good scoring from Hyenas Spicer (81), Joe Miller (85, 100) and Holtham (80).
In the first if the pairs, Eyre (140, 100) and Miller's S13-D16 brought the score to 3-1 against Massey's Miller (92, 81) and Williams' (87, 81). However, in Pairs no.2 The mighty Spicer and Durrant could neither score nor finish against Stevens and Cpt Fields, 100 and 3-dart out with S10-S20-D16. In the final pairs Massey's Smith fought a lonely fight against Holtham (85, 123) and Cyril Harrison's D2 deal sealer. Score line at half time 4-2.
Onto the singles and Massey's Miller (MOTM) was on form with 140 and a S20-D20 out bringing them to 4-3. Mr Spicer (MOTM) was equally up for it in Singles no.2 scored 100, 85, 100 and S16-D16 to pull away again against Des Field (120). Cpt Willams faced Russ Stevens in singles no. 3 which the latter took with D4. John Williams' 100, D5 brought Masseys within range again to make it 5 a piece despite Holtham scoring 140, 100. The last two legs went to the Hyenas however, with a good performance from Cizzle Harrison (100, 81, 95, 122, D4) against Smith and Mighty Miller's 135, 100, D14 against wild card Stevens. Final score 7-5. If Sean Smith had been playing, this write-up could have been even more confusing with both teams having players called Miller, Williams and Smith!
Elsewhere in the league, the ladies were putting in valiant efforts with the magnificent Marie Cummins taking 2 (and nearly 3) legs from El Capitan! Also, the ever-improving Hellraisers also managed to swing 3 legs their way from the Porter House Bees and the Jaguars took 3 (could have been 11!) from the Porters when all but 1 leg went to both teams on a finish.