Who would have thought it, the Southern Costa Blanca covered in snow.
Yes we've had the weather warnings telling us that temperatures 'could' drop to zero degrees during the course on the next few days but nobody really thought that we would see anything more than a bit of a chill, but waking up this Wednesday morning to see a blanket of snow covering Cabo Roig really was something surreal.
The first snow actually fell in the Province yesterday in Alcoy, Cocentaina, Aspe and the villages around Aitana. It had also reached the Marina Baixa and then this morning this morning Torrevieja and the Orihuela Costa.
Although fairly weak there are places where it has settled and warnings have been issued by the meteorological services, especially to drivers who are not used to such conditions, across the whole region.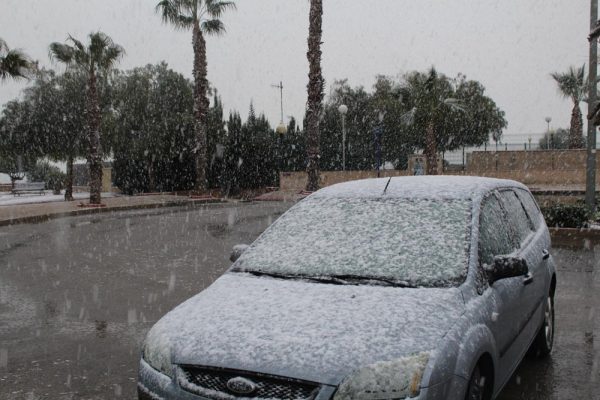 Venturing out at 8am this morning I was surprised just how slippy I found the footpaths and especially those brown garden tiles that there is such an abundance of here in Spain. But whilst the expats amongst us have seen it all before I had to smile as I heard the young screams of delight as bedroom blinds were lifted. Indeed there was one young lady that I would put in her mid-thirties who was quite obviously experiencing the spectacle for the very first time as she charged through the snow like an 8-year old that we regularly see in those sickly American Christmas films every year.
For many who venture out this morning there will be a rush of excitement, the sight and the feel of snow for the very first time will be an awesome experience, but having walked the walk and got the compulsory photo, snowballs and snowmen I will not be making. I will be huddled by my fire for the rest of the day.