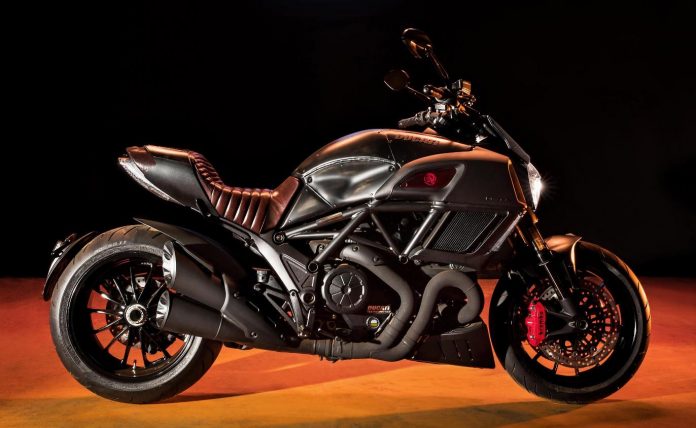 Ducati and Diesel unveil an important new initiative for their partnership: the exclusive Ducati Diavel Diesel, a motorcycle that seamlessly merges elements of the past and future.
The Ducati Diavel Diesel – of which only 666 numbered units will be produced – is the fruit of collaboration between Andrea Rosso, Creative Director of Diesel Licences, and the Ducati Design Center.
To create the Ducati Diavel Diesel, the two style centres were inspired by a hyperkinetic dynamism of a post-apocalyptic, retro-futuristic world.
The result of this new collaboration was unveiled during the Milan Men's Fashion Week at an event whose emotion-charged setting and music (performed by The Bloody Beetroots) provided the ideal backdrop for the new motorcycle. The new Ducati Diavel Diesel will also be at the Motor Bike Expo from 20 to 22 January 2017. It will go on sale to the public, worldwide, starting from April 2017.
The Diavel Diesel isn't the only new product coming up. Diesel has produced a capsule apparel collection dedicated to Ducati reflecting the DNA and roots shared by the two brands: creativity and innovation are the key values that have made Ducati and Diesel two icons of Made in Italy. Also going on sale starting from April, this collection comprises one Jogg Jeans, a leather jacket and two T-shirts.
"The collaboration with Diesel enabled us to explore original stylistic and technical aspects whilst staying within the Ducati brand and fully respecting its values," said Ducati Motor Holding CEO Claudio Domenicali. "In this case we worked with Diesel on an already uniquely original bike like the Diavel and the result was surprising to put it mildly. The details characterizing the Diavel Diesel cannot fail to captivate connoisseurs of special bikes but also people from different walks of life, such as fashion. It's always stimulating for us to move outside the world of motorcycling and widen our brand's areas of interest".
"It's an important bike that reflects the rock side of Diesel's DNA," explained Andrea Rosso. "The wording 'Never look back' engraved with the two logos captures the essence of this collaboration: a timeless bike that catches the eye with so many unmistakable details, such as the brushed stainless steel with visible welding and rivets. Ducati, Diavel and Diesel, three words, six letters each, forming 666, the limited number of examples of this new collaboration".
Distinguishing features of the Ducati Diavel Diesel
The Ducati Diavel Diesel is characterized by a hand-brushed stainless steel superstructure with visible welding and rivets that make it absolutely unmistakable and timeless. Details like the tank cover, front cowl and passenger saddle cover are examples of craftsmanship and style. The saddle, made of real leather, is unique to this Diavel, on which the pyramid element appears at various points: three identical faces embodying the three Ds of Ducati, Diavel and Diesel.
Other distinguishing features of this very special Diavel include the lateral air intake covers, made of red methacrylate with the Diesel logo on the inside. Red is also the colour of the Brembo front brake callipers, of five chain links and the LCD dashboard, which recalls vintage digital displays. The Ducati Diavel Diesel's exhaust system is another little work of art, thanks to pipes graced by black Zircotec ceramic coating and black silencers with ends machined from solid, on which the new pyramid motif appears.
The Ducati Diavel Diesel is a bike that masters the road whilst being lightweight and agile, like all Ducati motorcycles. Its 162 HP Testastretta 11° DS engine combined with the Ducati Safety Pack (ABS and Ducati Traction Control) and Riding Mode offer a riding experience that's thrilling and at the same time safe and intuitive. The 240 mm wide rear tyre is full of personality and, thanks to the effective chassis set-up, also delivers high-precision handling but also comfort for day-to-day use.
Tank cover in hand-brushed stainless steel with visible welding and rivets
Front cowl and passenger saddle cover with visible welding and rivets
Black lateral anodized air intakes with visible welding
Lateral air intake covers in red methacrylate with the Diesel logo on the inside
Red LCD dashboard
Exhaust pipes with black Zircotec ceramic coating
Black silencers with ends machined from solid
Exclusive design leather saddle with DDD pyramid
Numbered plate on frame
Matte black front mudguard with DDD pyramid
Rear-view mirrors with stem and cup machined from solid
Red Brembo front brake callipers
Chain with five red links
Bike cover and rear stand supplied standard
More images of the exclusive Ducati Diavel Diesel at Ducatipress.com
More info at Diaveldiesel.ducati.com
Ducati Motor Holding S.p.A. – A Sole Shareholder Company – A Company subject to the Management and Coordination activities of AUDI AG
Founded in 1926, since 1946 Ducati has been manufacturing sport-inspired motorcycles characterised by high-performance Desmodromic engines, innovative design and cutting-edge technology. With its factory located in Bologna's Borgo Panigale district, in 2016 Ducati celebrates 90 years since it was founded.
The model range covers several market segments with the following families: Diavel, Hypermotard, Monster, Multistrada, Superbike and SuperSport. In 2015 Ducati presented the Ducati Scrambler: a new brand made of bikes, accessories and apparel that provide the last word in creativity and self-expression.
These authentic icons representing what the world knows as "Made in Italy", together with an extensive range of associated accessories and technical and lifestyle apparel, are distributed in 90 countries globally. Breaking all records for the company, in 2016 Ducati delivered over 55,400 motorcycles to customers.
Ducati competes in both the World Superbike and MotoGP World Championships. In Superbike, Ducati has won 17 Manufacturers' titles and 14 Riders' titles. Ducati has been competing in MotoGP since 2003, winning both the Manufacturers' and Riders' titles in 2007.
About Diesel
Diesel is an innovative international company that produces and distributes jeans, clothing and accessories. Since its creation in 1978, Diesel has evolved from pioneer in the denim segment to world leader in premium casual wear and a real alternative to the traditional luxury market. Despite its growth, Diesel's philosophy has remained the same over the years: a brand that's a by-word for passion, individuality and self-expression.