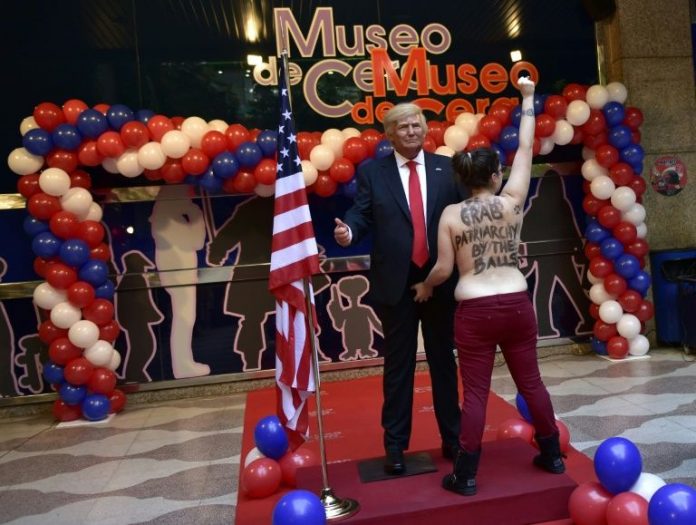 There was mayhem at the Museo de Cera Wax Museum in Madrid this morning (Tuesday) when a protester interrupted the unveiling of the new Donald Trump waxwork that is going on display in the museum.
A young lady protester was able to find her way to the front of the gathering at which point she interrupted the event, removed her jacket to reveal her bare chest whilst simultaneously grabbing the Trump dummy by the crotch and calling out "grab patriarchy by the balls."
The ceremony was being carried out to celebrate the beginning of Trump's term of office as President of the United States.
The museum's spokesperson, Gonzalo Presa, was quickly on the scene as he attempted to cover up the protesters chest with Trump's baseball cap before he realised that it didn't do the job, it was far too small and he needed something much larger.
He then tried to hide her embarrassment with the jacket that she had thrown off before turning to the balloons that embellished the red carpet leading up to the waxwork.
In the end she was restrained by museum employees before being led away from the scene.
Feminine activist group Femen, meanwhile, claimed responsibility for the protest via Twitter, writing: "Femen has just grabbed Trump's waxwork by the balls in Madrid!
Work on the waxwork began on November 9, the day that Donald Trump beat Hillary Clinton at the 2016 US elections. It will be on display in the Museo de Cera alongside figures of Barack Obama, John Kennedy and Abraham Lincoln.