New Year Ladies Blind Triples in Memory of Jeannie Parrish
The Ladies of the League gathered at Bar Buscavidas, Los Montesinos, for our Ladies Blind Triples event. This year, there is a Shield being presented, and it is to be called The Ladies League Memorial Shield, Dedicated to the Memory of those Departed. This first year it will be in Memory of Jeannie Parrish who died last year.
The exciting Final was between Ann McGivern, Joy Don & Chris Greenwood and Shirley Stephenson, Shirley Ward & Natalie Clifford with Ann McGivern's Triple becoming the Champions of the night. Well Done to everyone who took part.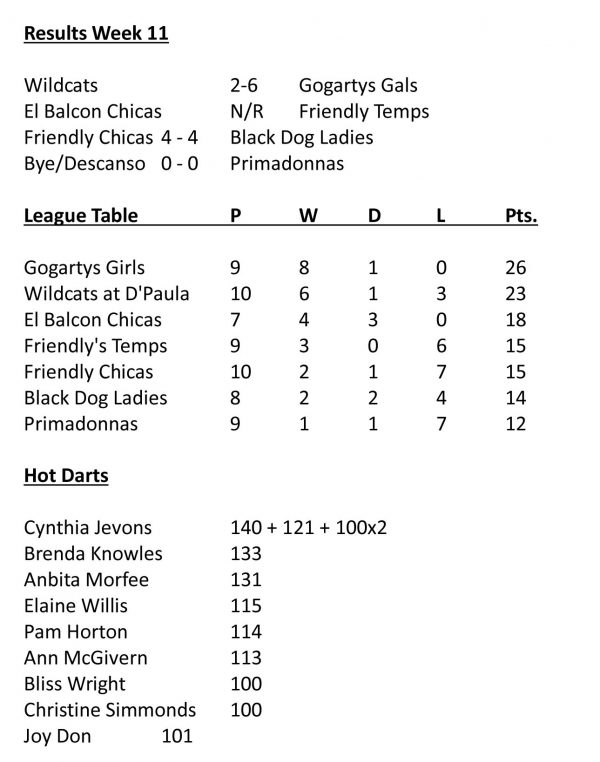 Captains you are kindly asked to get your names in for the Ladies Pairs competition by Tuesday 17th January, as this is done on the laptop. The Ladies League pairs will be held on Tuesday 24th January at Buscavidas Montesinos at 20.15 for 20.30 start.
Apologies that the results are not complete, but no results have been submitted from El Balcon Chicas for their home games.
In the meantime, Well done to you all this week, keep up the good work, and I wish you a Prosperous and Healthy New Year 2017.
Pam Horton, 96 571 0066, Ladies Darts Coordinator, Emails: darts@arrakis.es