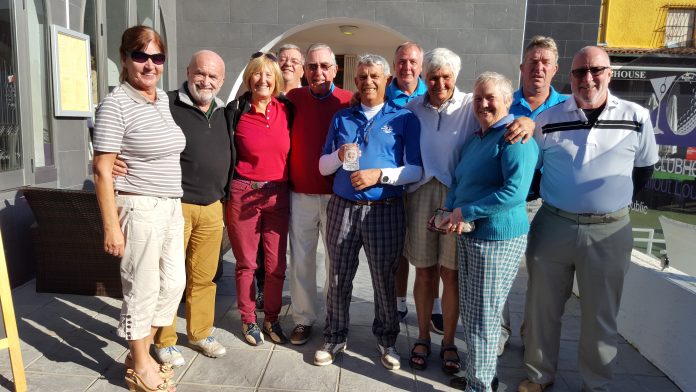 On Thursday 29th December Eurogolf played a stableford from the blocks. Due to the Xmas holidays there was a depleted field of just over 30 players. It was the first time we had played the full 18 holes since the flooding and as expected some holes which had been badly affected were a bit soggy under foot to say the least! Due to a small field only 2 prizes were given in each division.
The CBA was -2 which shows the scores were pretty low in most categories other than Cat 1. 1st Bill Martin 35 c/b 2nd Fred Reeve 35 Cat 2. 1st Steve Sayers 29 2nd Alan Venables 28 Cat 3 1st Gordon Bourne 33 2nd Ken Brett 30 Cat 4 1st June Caithness 31 2nd Chris Stanley 28 Overall winner Bill Martin NTPs 5th Bill Martin 11th Morag Turner 12th in 2 Pino Perito 15th and 17th Arty Crammon Best front 9 John Barraclough 18 Best back 9 Phyllis Venables 19 Football draw Gill Britten Debbie Weedon Sue Gillette and Bill Martin
TUESDAY TOFFS
On Tuesday 27th December there were only 13 holes open 10-18 and 3-6 but we still ran a Toffs competiton. As there was a relatively small number of players only 2 prizes were given in each division and the football was carried over to Thursday. The results were Cat 1 1st George McCallum 26 2nd Ian Pegg 23 Cat 2 1st Bert Lawson 28 2nd Debbie Weedon 22 Cat 3 1st Gordon Bourne 24 2nd Phyllis Venables 24 Cat 4 1st Chris Stanley 25 2nd June Caithness 19 NTP´s 5th Arry Crammoin 11 Chris Stanley 12th in 2 Angelique Berndt 17 John Kirkwood 17th Bill Martin. Overall winner Bert Lawson.
After Thursdays game Captain Debbie Weedon made a presentation of some small golf gifts to the players who had donated the most money to the Captains charity via the weekly Captains bunker challenge. They were Arty Crammon, Fred Reeve, Ian Turner, Alan Venables, Chris Stanley and Morag Turner.
If you would like to play with Eurogolf at La Marquesa Tuesdays and Thursdays please visit the website www.eurogolf-quesada.co.uk