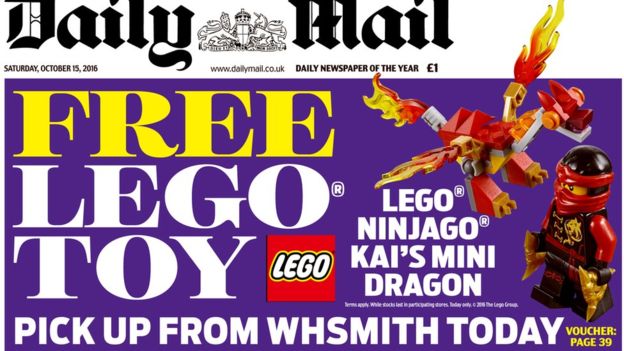 Brands must be involved with the values of society and the markets in which they operate. This is the only way to generate the commitment, transparency and honesty that so many new consumers demand. And the last one to make it clear has been LEGO.
The Danish toy maker has decided to break the agreement it had since 2013 with the Daily Mail. An alliance whereby readers of the newspaper, with a coupon, could get free of charge one of the fun dolls of the brand.
The cause was a letter sent by a father who in a few hours became viral. The letter collected the disappointment of the parent to the collaboration between LEGO and a newspaper that has recently strengthened its sensationalism and xenophobia.
"LEGO has always been an integrative product," said the affected father in the letter. "It broke gender barriers, stimulated the children's imagination and gave them confidence to do their own thing."
The company has not wanted to make any kind of statement about its decision. It has just issued a statement with the following message: "Our agreement with the Daily Mail is over and we do not intend to endorse another in the near future."
The truth is that we are facing a complicated situation. Although many applaud the decision of the advertiser to cut off the wings of xenophobia that grows wide in Europe, others see an attempt to curb the freedom of expression of the medium. Many readers are pleased with the decision to suspend the deal between LEGO and the Daily Mail.
The Stop Funding Hate organization wants newspapers like the Daily Mail, The Sun or the Daily Express to be banned. The reason lies in the fierce campaign they launched to support the Brexit, falling on several occasions in xenophobia.
clementeferrer@clementeferrer.com
Author and journalist Clemente Ferrer has led a distinguished career in Spain in the fields of advertising and public relations. He is currently President of the European Institute of Marketing.