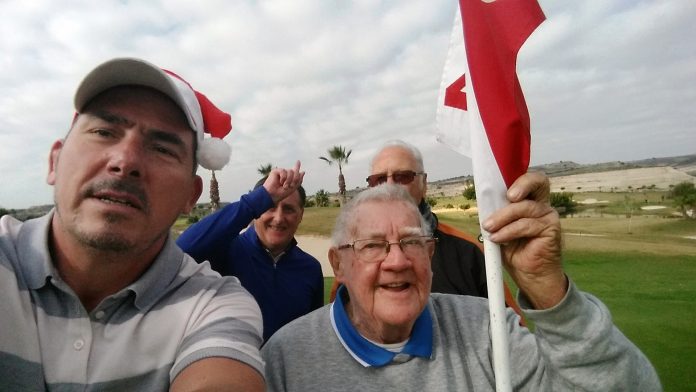 We held our last game of the season on our home course Vistabella. After all the rain the course was in very good nick with lovely greens which made putting easy if you found the right line.!!
It was our Xmas Bash and we played a medal for the Charlies Bar Trophy which was won by Ray O'sullivan with the top score of the day  a Nett 76 which included a Hole in One on the 4th green.  Well done Ray
Thursday 15th we had the presentation dinner with 36 players and wives at Charlies Bar in Torreta 11. With music by Adam Slater, it was the best one ever out of the 6 we have held in the past, I think the first persons to leave left about midnight.
RESULTS: GOLD CAT  1ST R O'Sullivan   76 Nett   2nd M Anderson   79 Nett  3rd L Lambe  81 Nett
SILVER CAT 1st M Hithersay  8o Nett  2nd  G Wild  84 Nett  3rd  P Daggatt  87 Net
Only 1 par 3 green hit The par 4th by R O'Sullivan Hole in One
Longest drive   P Mutter      Player of the Year Ron Swift
All that remains now is for you all to have a Fantastic Christmas and a Joyest New Year and will see you on the tee at Vistabella on Tuesday 10th January first tee 9,00am