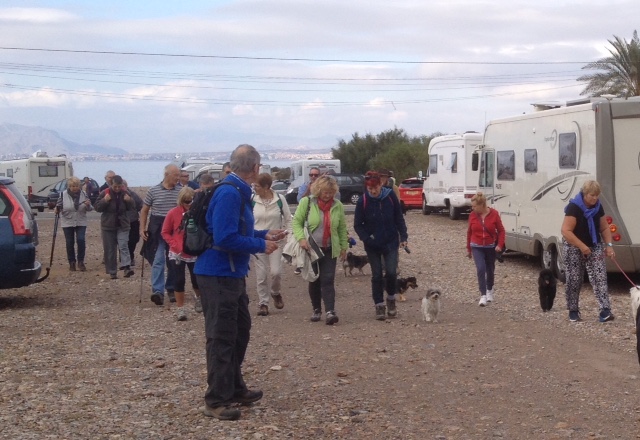 There are several items to report in this month´s Bulletin, reflecting on the varied activities offered by the Humanists of Murcia.
Easy Ramblers to Campillo de Adentro
On Saturday December10th, thirty walkers, accompanied by five dogs, assembled in the rambla opposite the church at La Azohia for the last easy walk of the year.
One brave man wore shorts, and the rest of us debated whether or not we needed jackets until we were called to order for a prompt, well 11:06, start.  Ably led by Audrey, we took the left hand route up the rambla, then took the left hand turn which leads to the Pozo de Campillo ,or village well.
During the refreshment stop there, Rhian told us some of the latest humanist news, including concerns about Northern Ireland´s abortion laws which breach the European convention on human rights, and  the results of a recent Comres survey which showed that the vast majority of British Muslims do not support faith schools.
After this, a short walk took us to the Campillo de Adentro social centre, where preparations for the festive season were well under way, for coffee etc. The direct route from there took us back to La Azohia, and after the distribution of lemons, it was off to Isla Plana for lunch, where we were joined by several non walkers.
The next easy walk, starting from the Bar El Puente in La Majada is on January 14th. For further details please see our website, Humanists of Murcia.com
Darwinian Gardeners Visit Christmas Poinsettas
On Saturday 26 November fifty two members of the Darwinian Gardeners made their way to San Pedro de Pinitar for our annual pre Christmas visit to a poinsetta nursery. The sight when entering the greenhouses was amazing and the effect of so many poinsettas in one place was really lovely, plus in the smaller greenhouses were poinsetta plants of different colours, although we were advised that these do not sell very well to the Spanish market as red is the colour of choice.   The week following our visit the nursery was getting ready to ship 400,000 plants to Madrid and they were especially proud last year that plants were sent to the royal palace.
Lots of plants were purchased by the group at very good prices before making our way to the Chino Big House restaurant in San Javier, which was easy as you only had to follow a car with poinsetta plants on the back seat.
Everyone had a very good lunch and four lucky people won raffle prizes.
Discussion Group
The quarterly discussion group of the Humanists of Murcia met on Saturday Dec.3rd at the Bar El Puente in La Majada.
The discussion, led by our member Martine Smets was  around her choice of topic "Who wants to live eternally?" and was prompted by a book she has recently read. The central idea of the book, entitled "The possibility of an island" by Michel Houellbecq, and which  is set in the future, is that members of a particular sect were enabled to be cloned and thus "live on" into the future. The clones began their life at about 18 years old, lived as hermits in an enclosed compound, and after being cloned to produce the next version of themselves, took their own lives at about age 50. The world they lived in had suffered both global warming and nuclear war, and beyond the compound of the clones lived feral tribes of uncloned humans who posed a danger to the clones, in their fight for survival. Despite the restricted environment in which they lived, and that there was no need for nourishment, and no sexual relations, the clones were not bored.
So with these ideas as a starting point, we were posed the question, " Would you like to live for ever?"
Several members started with more questions; Would the eternity on offer be as described in the book?, Would one be able to choose at what point in life one entered eternity?  Would there be relationships with others in the eternal life? What about meeting up with deceased former partners, for example how would it work if one had been widowed twice or more?
The position of religions in relation to eternal life was also raised. Despite the promise of paradise by religions, none of them spell out what paradise would be like, as opposed to hell, which is described in some detail. If the eternity offered by religion was as described in the book, would there be any takers? What would one do to pass the time for ever?
After a lively discussion around these ideas, the consensus was that we
didn´t want to live eternally. Too many imponderables, too many possibilities of it all going horribly wrong. True to our humanist principles we concluded that we are content to expect that our physical bodies and our life energy will, on our deaths, return to the universe.
Games Evening
The November games evening was hosted by John and Rhian at their home in La Majada, as our usual venue was not available. Their ample refreshments were supplemented by more delicious cake, and cava , supplied by members, so the evening was off to a good start.
Perennial favourites, Mexican train and Rumikub were once again very popular, with some of us being introduced to both of them for the first time. John bravely undertook to introduce additional card games, which some of us were new to, and others had vague memories of from childhood. All very enjoyable.
If you would like to join us for some innocent fun, and possibly cake, you are very welcome. As we are not sure about the venue at present, please feel free to phone 669 338 885 for more information.