(Sponsored by Costa Blanca Green Fee Services).
Here on the Costa's golf is one of the biggest leisure time activities for both tourists and resident alike and with this in mind we have secured the services of Mike Probert of Costa Blanca Green Fee Services to provide a weekly round up of local golfing events and topics and in conjunction with us at THE LEADER will provide discounted golf prices to all of our readers and run our golf competitions.
'Winter Low Season'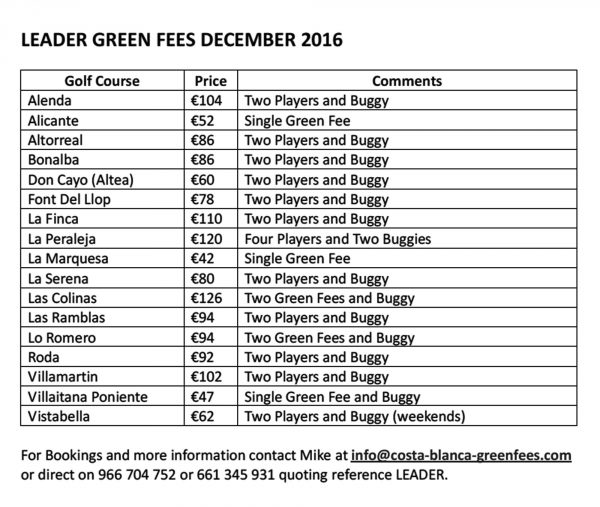 Love it or hate it but our Spanish hosts continue to apply a strategy of seasonal pricing where the base price of golf varies throughout the year and good or bad it is here with us to stay until there is some dramatic change on the market place.
Given that ALL of the local courses have had their best high season period ( October and November) for many years this is unlikely to change in the near future.
The good news is that with effect from 1st December 2016 most of the local golf courses apply their LOW SEASON tariffs that will stay in place until 29th February 2017.
The other good news is that as most of the courses are relatively quiet over these winter months with tourists being in short supply and many residents returning back to the UK for Christmas and the New Year.
The pace of play on the courses is quicker than normal and you should be able to forget 5 hours rounds for a few months.
Yes I know that even here in Spain during the winter months you still have to wrap up warm with wind cheaters and woolly hats but late morning tee times usually see you get the best of the afternoon sun and warmth.
You should always remember that back in the UK the chances are that with low temperatures,snow and ice it is unlikely you would be playing at all so go on give the missus a break for a few hours and fill your boots with golf at these low prices because before you know it the high season prices will be back with you in March.
I would advise you to take advantage of these prices while you can because nearly all of the courses have increased their high season prices in 2017.
We at THE LEADER are committed to providing to our golfing readers affordable golf without the need to join a club or apply for a card but simply contact the number below to have instant access to discounted golf prices, many of which are exclusive to us.
Quotation of the Week
"Dismiss the idea that a good swing is effortless" –  Pat Sheehan