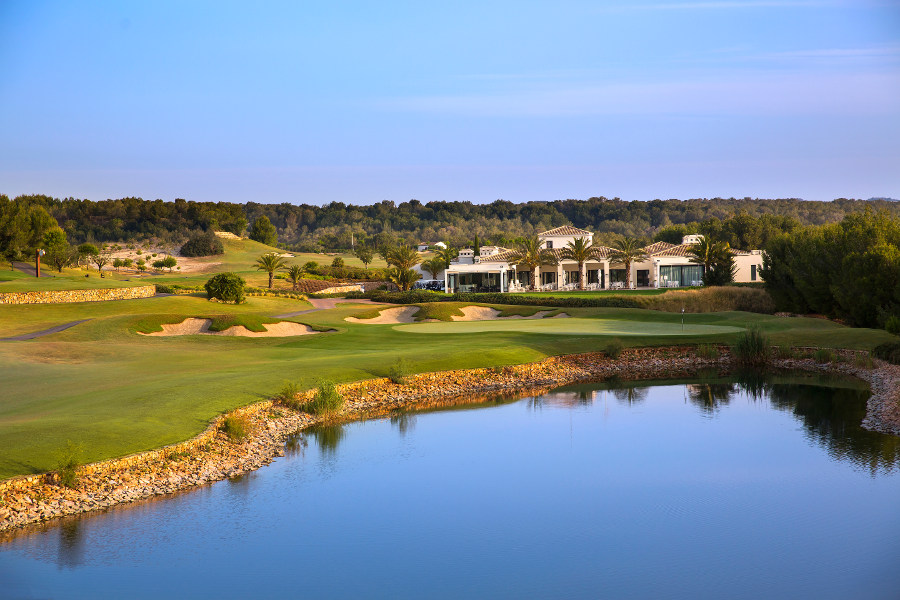 'MIKE PROBERT TALKS GOLF
(Sponsored by Costa Blanca Green Fee Services).
Here on the Costa's golf is one of the biggest leisure time activities for both tourists and resident alike and with this in mind we have secured the services of Mike Probert of Costa Blanca Green Fee Services to provide a weekly round up of local golfing events and topics and in conjunction with us at THE LEADER will provide discounted golf prices to all of our readers and run our golf competitions.
Destino
Over recent weeks we have reviewed the power of the mind and how to tap into this most valuable part of your' make-up' as a golfer.
Just how important can it be?
I will give you examples based on highly talented golfers and winners of major championships.
Probably the greatest of European golfers in modern times is none other than Severiano Ballesteros who mystified us with an array of low scoring and wonderful recovery shots over many years until his back began to restrict his abilities.
Was it his back or something else?
If you read his autobiography you will see that while he was a hugely talented golfer he was also a borderline depressive.
During his best golfing years he believed that it was his 'destino' to play outrageous recovery shots, to hole birdies, win championships and to beat the Americans.
His total belief in this 'destino' over ruled and fears of failure that he had and allowed him to play in a free and relaxed manner convinced that success would follow.
When did this feeling end for Ballesteros?
The answer is simple, in 1986 while leading the Masters, which he had dedicated to his recently deceased father; he 'dunked' the ball into the water on the 15th Hole and handed the event to Jack Nicklaus.
He was never the same golfer again because his inner belief or 'destino' had been lost along with that championship.
Another former champion Ben Crenshaw generally regarded as one of the best putters of all time claims that at his best he could almost 'will' the golf ball into the hole.
This all goes to underline the power of the mind and the importance for golfers of all abilities to be able to eliminate negative thought from their minds and replace them with positive ones.
We at THE LEADER are committed to providing to our golfing readers affordable golf without the need to join a club or apply for a card but simply contact the number below to have instant access to discounted golf prices, many of which are exclusive to us.
LEADER GREEN FEES
The deals shown in the table are some of the best currently available to you until 30/09/16:
Deals of the Week (all proceeds to British Legion & Help Heroes):
Villaitana Levante (2GF & Buggy) = €100
Don Cayo (1GF & Buggy) = €30
For Bookings and more information contact Mike at info@costa-blanca-greenfees.com or direct on 966 704 752 or 661 345 931 quoting reference LEADER.
Quotation of the Week
"I don't think I am write I know that I am rite" –  dyslexic know it all
EL RASO GOLF SOCIETY AT SAURINES
On Friday 28 October 28 members travelled down to Saurines, a course we have not played before.  It is described as a desert style course with influence of the Nicklaus golf course in Lake, Las Vegas.  Judging by the comments that came in after the game, most found the links course characteristics and undulating fairways challenging and interesting, and have shown interest in playing the course again.
The competition was a Stableford format and the results were as follows:   NTP's: hole 6 Paul Manning hole 10 Ken Brett holes 14 and 18 Morag Turner.   Gordon Bourne won best front nine with 19 pts and best back nine went to the lady who managed to turn her game round on the back nine, Lauraine Walker, with a super 23 pts.  The scores were all very close, however third place went to Malcolm Foskett 33 pts, second Jan Shorley also with 33 pts.  However, the round of the day was scored by David Valentine who came in with an outstanding 41 pts and a severe handicap cut!
Presentations were held at the Olde 9th in Quesada and Captain Marilyn welcomed new members Morag and Ian Turner and Gloria and Paul Manning.  Our thanks go to Grant and Isobel who served up delicious chilli con carne.
EUROGOLF NORTH V SOUTH
On Thursday 27th October Eurogolf played a stableford in teams of people from the North and South. Each flight had 2 people from the South and 2 from the North and the the pair with the highest joint scores won a point for their team. To add to the day the South team wore blue shirts and the North team wore white and surprisingly everyone remembered to do so! The overall winners by 3 points were the South.
The pair with the highest points were Colin Daye-Gretton and Peter Gartside with an impressive 75 points. In 2nd place were Sue Gillette and John Cross with 67 points closely followed by  Bob Buckeridge and Keith Wright with 66 points. The lady with the highest score who wasn´t in the team prizes was Jan Shorley 35 points and the best man was Harry Armstrong 35 c/b. NTPs 5th  Vince Tocker 11th Gary Grierson 15th Gordon  Bourne 17th  Arty Crammon.
Football draw Clive Horne, David Valentine, Gary Grierson, Alan Venables and Craig Hall.
TUESDAY TOFFS
On Tuesday 25th October 74 golfers played in the weekly stableford competition at La Marquesa and the results were Cat 1 1st Bob Buckeridge 37 2nd Malcolm Foskett 35 3rd Clive Horne 34 Cat 2 1st Steve Sayers 37 2nd Jim Weston 36 3rd  Stan Low 35 Cat 3 1st John Holland  34 2nd Gordon Bourne 31 3rd Mary Sanderson 30 Cat., 4 1st Bev Evans 36 2nd Lauraine Walker 34 3rd Franco Gentili 31 Overall Toffs Winner Steve Sayers Best front 9 Robin Richards 20 Best back 9 Alan Venables 20 NTPs 5th Morag Turner 11th Jim Weston 15th John Kirkwood 17th Mike Gillette Football draw John Kirkwood x 2 Steve Sayers John Fairhurst and Morag Turner.
If you would like to play with Eurogolf on Tuesdays and Thursdays at Las Marquesa please visit the website www.eurogolf-quesada.co.uk
EL PLANTIO 2 GOLF SOCIETY
On the 1st November, seven teams of three commenced a 'Shotgun Start' for a very enjoyable 'Texas Scramble'.
Nearest the pins: Hole 2 – George Stanhope, Hole 5 – David Swann. 3rd Place – Handicap 6.08, Ian Henderson, Sandra Comer, Rod Loveday, Net 48.92 shots. 2nd Place – Handicap 6.03, John O'Brien, Keith Smith, Alan Scrimshaw, Net 46.97 shots. 1st Place – Handicap 5.32, Alan Janes, Mike Davies, Gary Needham, Net 46.68 shots.
If anyone would like to join our Society, we play at El Plantio Golf Club  on Tuesday, Friday and Sunday. We use both courses – the Par 3 nine hole course and the main 18 hole course, so we cater for all abilities. The membership rates are very competitive, so call for more details. Anyone who wishes to play in the Society as a guest or join as a new member, contact Ian Henderson on 966 716 616 or 636 116 230.
LOS NIETOS GOLF SOCIETY
Los Nietos Golf Society played at La Torre on Wednesday 2nd November for the HENRY WILCE MEMORIAL TROPHY. The day was a celebration of Henry's memory , a former well-loved member of the society. The trophy is played for each year and his wife Janet and two children , Nick and Katie joined us in the evening for dinner at El Fraile , in the village.
The competition was an individual stableford with the following prizes and winners….
Nearest the pin on hole 5 was won by  Alan McNicol, and hole 15 was won by Pat Hurley. Pat's name just keeps popping up as he also  won the longest drive on hole 7 , 2nd shot nearest the pin on hole 14 and he was also runner up with a magnificent score of 39 points . The handicap secretary will busy as the scores reflected the ideal conditions with 10 of the 23 players scoring over 30 !!
The winner of the front 9 was Mick Mcgovern with 20 points and winner of the back 9 was Kevin Shackleton , also with a score of 20 points.
The overall winner for the Trophy this year was Ian Price , with a great score of 40 points .
Congratulations to all the winners and our next sojourn will be at La Roda on 7th December 2016.
Anyone wishing to learn more about our society can contact Iain on casabromley@hotmail.com in the first instance.
ROCKETS GOLF SOCIETY
Firstly, I would like to extend to Diana and all the family, our sincere sympathy on the loss of a lovely husband, father and grandfather, and a well respected member and founder of the  Rockets Golf Society. Ivie, the boys will miss you!! But he will be keeping tabs on us.
As we had to cancel our game last Tuesday because of Ivies funeral. we played the re-arranged game at Vistabella today with some good scores returned. Topping the scoring today was Dave Guerrine who scored 37 points. A good knock Dave. Course in very good condition with greens running true, if you can read them.
Results: Gold Category
1st  Ron Chambers 35 Pts, 2nd Liam Foley 31 Pts, Arthur Williams 29 Pts
Silver Category, 1st  Dave Guerrine 37 Pts, 2nd  Graham Knight  31 Pts, 3rd Tom Richardson  30 Pts
Only 1 Nearest The Pin Hole 15   Les Yates,  Longest Drive Les Yates, Best Guest   Chris Johnson
Next week the 8th November we are back to normal when we will be back at Vistabella for our November home game. First tee 09.00am ,be at the course by 08.15am. After the game we returned to our base the St James's Gate pub in the Torretas for "" Mandy's Munchies"" and of course a drop of the hard stuff. Thanks Martin & Mandy. Anyone who would like to join this friendly Society, or just to have a game whilst on holiday, give Rocket Ron a ring on 678 849 142 or email  sanmigron@gmail.com.  Clubs & Trollys are available.
T.M.G.S. @ CAMPOAMOR 2/11/16
47 members and a few guests were greeted by a warm calm autumn day to play the 2nd round of our Eclectic Stableford competition. The golf course is now showing signs of heavy traffic from this extremely busy high season, added to that Campoamor is the only local course that over seeds the Bermuda grass at this time of year, so that when it goes dormant the golf course retains its green fairways.
The results of this work will be seen during the next few months when the temperature drops. That said, the scores were on the high side with many of our Viking members reducing their handicaps which they might regret in a few weeks when we play them for the "Viking Trophy" at La Manga.
Note: Karen Smith (wife of Graham) is extremely happy that Graham won the N.T.P. on the 15th; the prize was a bottle of Vodka which she said would come in very handy during her duties as his full time nurse and maid . Today's results, N.T.P. competition: hole 4 I. Brown, Hole 6 Nada, Hole 10 S. Sonesen, Hole 15 G. Smith, Hole 17 D. Cranston. €40 swelled the "2's" pot but this had to be shared between 4 lucky winners one of whom had 2 (Sverre Sonesen).
Our best visitor this week was local member Gerry Gibson with 28 pts. Bronze category; 3rd L. Jernberg 34 pts. 2nd O. Haubner 38 pts. 2nd C. Marsden 38 pts. L/H Silver category: 3rd L. Jernberg 34 pts. 2nd A. Kilnes 36 pts. 1st H. Kyvag 39 pts. Gold category: 3rd N. Spaniol 35 pts. 2nd L. Sandgren 39 pts. 1st D. Cranston 39 pts. Photo: N.T.P. winners. L/H. For more information about our Society log onto www.tmgs.org  and download our new app. Or visit us at www.facebook.com/TMGSGOLF
LAS RAMBLAS GOLF SOCIETY – REPORT FOR W/E 4 NOV 16
We started the week with a 4 ball Texas Scramble with 7 teams competing in perfect weather conditions. The team of Nick Campbell, Friedel Knebel, Reg Akehurst and Annemarie Weisheit were the winners with an excellent score of 56.3 well clear of the second placed team of Alan Douglas. Ulrike Barth. Peter Wickham and Hendrick Oldenziel with 58.8.
However shot of the day has to go to John Dobson who recorded a hole in one on the Par 3 sixth hole which was struck so well those witnessing it were anticipating a drink at the 19th hole as soon as it left his club. A photograph of John at the moment he retrieved his ball is shown above.
On Wednesday it was the final medal round of our Club Championship with the winner in both Ladies and Gents Divisions (Gross and Net) being the player with the lowest aggregate score from their best 2 of 3 rounds. On the day prizes were on offer for the top 3 players in Categories 1 and 2 and the 2's Club was in operation as usual. Hendrick Oldenziel must have thought he had returned the best score of the day coming in with an exceptional net 68 but he hadn't reckoned on Bryan Neal who scored an incredible net 64! to win Category One.
It also gave him the honour of becoming Club Champion (Net) beating Geoff Biggerstaff by one shot. Geoff had the consolation of winning Category 2 on the day with a Net 73. Despite not being in the frame Lindsay Forbes won the title of Club Champion (Gross) and Yvonne Phipps won both the Ladies Gross and Net titles. The top 3 in each Category were as follows:
Cat 1. 1st Bryan Neal 64 2nd Hendrick Oldenziel 68 3rd Benedicte Kruse 72
Cat 2. 1st Geoff Biggerstaff 73 2nd Terry Cullen 74 3rd Yvonne Phipps 78
2's Club: Dave Pulling, John Dobson, Brian Staines, John Collins and Yvonne Phipps
On Friday we played a Change Partners which was won by Liz and Ken Robertson, Hendrick Oldenziel and Nick Campbell with a score of 84 pts. In second place with 82 pts were Benedicte Kruse, John Collins, Alan Douglas and Ian Stones.
Mike Chapman