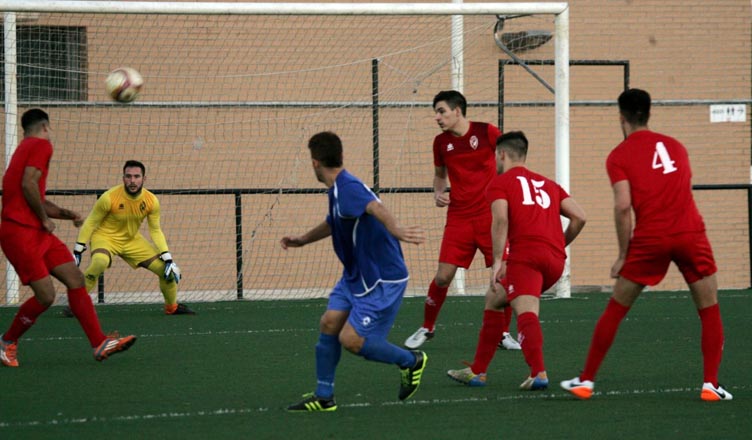 Mazarron gave one of their best performances of the season so far to earn a 1-0 away win at AD Alquerias.
Alquerias started brightly and Juan Pedro in the Mazarron goal made a couple of early saves with Raul Torrano also helping out with a goal line clearance from a corner. Most of Alquerias's threat came from their star player David who caused Mazarron many problems in the corresponding game last season.
However, Mazarron soon got to grips with the artificial surface and Jimmy shot over the bar from a Boudia free kick. The only goal of the game came after 24 minutes. Raul was fouled midway inside the Alquerias half and Raul Torrano's pinpoint free kick was headed firmly into the net by Raul. Juan Pedro was again forced into action as Alquerias sought an equaliser but it was Mazarron who created the better chances with Jimmy again firing over the bar and Ruben's cross to the far post being just too long for Raul to reach.
Steven replaced Raul at half time and Mazarron used his pace down the right to good effect with Jimmy taking up a central striking role. Juan Pedro again made a crucial save at the near post early in the second half and then had to come off his line smartly to smother another Alquerias attack.
Andreo and Ruben both had shots off target for Mazarron and Steven made an excellent break down the right but chose to cross the ball when he was better placed to have a shot at goal. Mazarron almost increased their lead on 65 minutes when Juan Pedro's clearance was cleverly controlled by Jimmy. He played the ball into the path of Ruben whose fierce drive was just touched around the post by the Alquerias keeper.
A minute later Juan Andreo's pass found Andreo whose shot crashed against the bar as Mazarron started to take control of the game. Then Jimmy and Ruben exchanged passes with Jimmy's shot again being well saved.
Alquerias surged forward in the last 15 minutes but Mazarron's defence again superbly marshalled by captain Juan Andreo held firm to earn three precious points and take the team up to ninth position in the league.
Mazarron's next game is the local derby at home to second placed Bala Azul from Puerto de Mazarron on Sunday (6th November) kick off 5 pm when a bumper crowd is expected at the Estadio Municipal.
Team: Juan Pedro; Raul Torrano; Boudia; Juan Andreo; Pedro; Raso; Andreo; Ruben (Mariano); Cesar (Koko); Raul  (Steven); Jimmy
Man of the Match: Juan Pedro