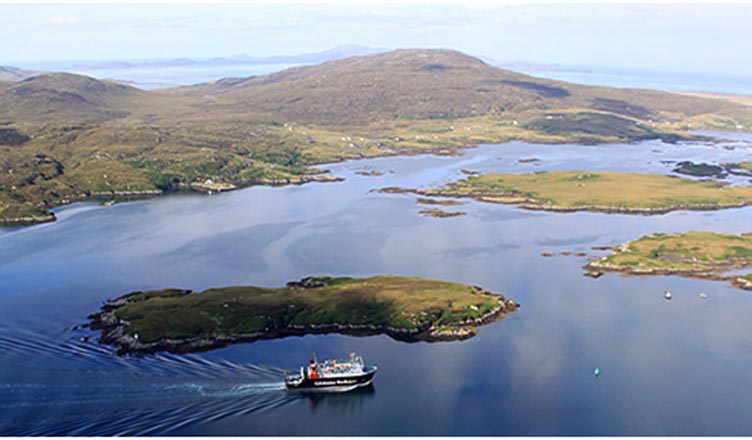 THIS IS ASKERNISH GOLF CLUB, a real "Hidden Gem" on the little island of South Uist in the Outer Hebrides.   Lost for decades, it's holes hidden by sand, and now restored.   In 1891 wealthy landowner Lady Cathcart requested Old Tom Morris to create an 18 hole course on South Uist to impress her high society guests.
The 6.080 yd. par 72 course was laid out in a traditional loop system, it's fairways formed from the natural contours of the dramatic dunes.   Over the years Askernish was maintained by the local crofters, but in the 1920s, it was allowed to go back to the wild, with cows grazing on the fairways.
However, in 2005 the islanders decided to enlist the help of expert advisors, and the course was re-opened in 2008 to great acclaim, a true links course that gives breathtaking views of Barra and other islands.  The Clubhouse is now closed for the season. However the course is very much open for play and visitors are 'kindly asked to use the honesty box for Green Fees.'  Apparently it can be 'a bit breezy,' but worth hanging over the side of the boat over and back for.
AS NIKE NO LONGER sells golf equipment, Rory McIlroy can choose the clubs best suited to his game.  According to reports, he's planning to use TaylorMade's M2 driver and fairway metals at the WGC-HSBC Champions in China.
That means he, Dustin Johnson and Jason Day, the worlds' top 3, could all be using TaylorMade (or would be if Jason was fit). Allegedly Trackman testing by Rory gave the M2 a 330 yd. carry and a total drive distance of 357 yds.  The courses will need to get longer.  And longer.
THRILLA IN MANILLA?  Rory McIlroy and Dustin Johnson will square off in an 18 hole medal play exhibition match in the Philippines on November 29th in golf's version of Ali vs. Frazier. "Dustin vs Rory, Battle for a Cause" will be held at the new Pradera Verde Golf Course, provided the course survived super typhoon Haima, the second to hit the Philippines this month, and proceeds from the event will benefit Jason Day's foundation.
Day, who's mother is from the Philippines, was originally due to compete, but has had to withdraw due to a back injury.
THE EUROPEAN TOUR is due to play the Turkish Airlines Open on Nov. 3rd in Antalya, one leg of the European Tour's Race to Dubai. The tournament could now be in doubt after the Tour said it was urgently investigating recent attacks in Antalya, where two rockets were fired, apparently aimed at a fuel tanker.
The Turkish Open is scheduled to feature Europe's top players, but some are apparently having second thoughts.   If they didn't fancy being chased by a mosquito they definitely won't fancy being chased by a rocket.
AT THE CIMB CLASSIC at TPC Kuala Lumpur, Malaysia, a  six-foot python appeared on the green as players were about to putt.  Thankfully, the uninvited spectator was removed by the course staff and no harm was done.  According to locals it was a juvenile.  Good job it's Dad didn't come looking for it.
Anirban Lahiri entered the Sunday round of the CIMB Classic with a 4 shot lead and scenting his first PGA Tour victory, but disaster struck on the par-5 third when his drive lodged high up in a palm tree, forcing him to take another tee shot.  Hitting three off of the tee, Lahiri ended with a quadruple-bogey 9 that scuppered his hopes, and he finished tied in 3rd place behind defending champion and eventual winner Justin Thomas.  Everyone agreed it was a poor performance.  Even the snake hissed.
PADRAIG HARRINGTON lifted his first European Tour trophy in eight years at the Portugal Masters with a final round 65 and a one-shot victory over 2015 champion Andy Sullivan.  Not bad for a 45 yr. old. Well done Padraig. There's hope for us GOG's (grumpy old golfers) yet!
Until next time, Happy Golfing.
Contact Mick for regripping and repairs. 638 859 475.