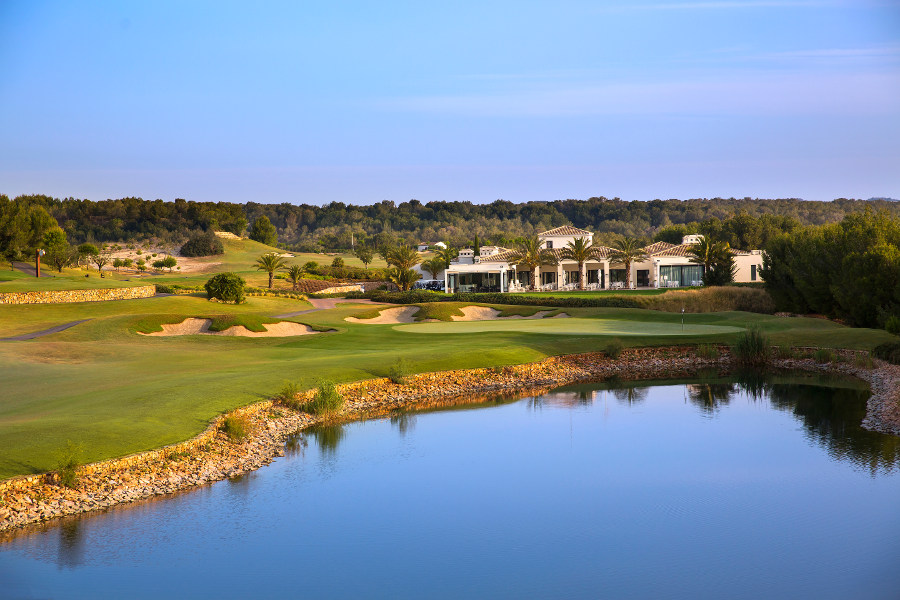 'MIKE PROBERT TALKS GOLF
(Sponsored by Costa Blanca Green Fee Services).
Here on the Costa's golf is one of the biggest leisure time activities for both tourists and resident alike and with this in mind we have secured the services of Mike Probert of Costa Blanca Green Fee Services to provide a weekly round up of local golfing events and topics and in conjunction with us at THE LEADER will provide discounted golf prices to all of our readers and run our golf competitions.
NATO Golf
 Those of you that have played golf for a long time will be aware of the phrase 'to play war time golf' which is when a player goes out in 39 shots and back in 45 shots.
I now want to introduce you to a new military related term 'to play NATO golf'.
Basically this means Not Attached to The Outcome.
Mentally you can't play any shot with confidence if the potential result of the shot plays heavily on your mind.
Will I win? Will I lose? What if? etc are all examples of focusing on the outcome.
This problem is faced by professionals as well as amateurs.
During the 1995 Ryder Cup at Oak Hill, Nick Faldo was faced with a 4ft putt to win his match against Curtis Strange and to give Europe any chance of winning the cup, which they subsequently did when Philip Walton won his match on the 18th hole.
Faldo stood over the ball and stroked putt into the back of the hole with apparent confidence.
However when interviewed later he stated that his concern was not to miss the putt and go too far past because he could 'cost' Europe the Ryder Cup.
Despite these thoughts in his head, he put them to the back of his mind and got on with the job.
How did he do this?
It is vital in golf to remain in the present and to play golf one shot at a time.
Do not let your thoughts venture into the future and most definitely do not brood about previous bad shots in the round.
If you can master this approach to golf it will reduce your levels of stress during the round and you will get more enjoyment from your game and will look forward to pressure situations rather than try to avoid them.
We at THE LEADER are committed to providing to our golfing readers affordable golf without the need to join a club or apply for a card but simply contact the number below to have instant access to discounted golf prices, many of which are exclusive to us.
The deals shown in the table below are some of the best currently available to you until 30/09/16:
Quotation of the Week
"Pressure is for tyres" – David Mason
EUROGOLF MONTHLY STABLEFORD  AND NON WINNERS CUP
Heavy mist delayed Eurogolfs monthly stableford for an hour but everyone waited patiently for the mist to lift and when it did it gave way to a lovely days golf apart from a slight rain shower for 15 minutes.
The results were Cat 1 1st George McCallum  37 2nd Paul Manning 35 3rd John Barraclough 35 c/b  Cat 2 1st Robin Richards 35 2nd  Bert Lawson 33 3rd John Holland 31Cat 3 1st Ann Rogers 30 2nd Bruce Gordon 30 3rd Jan Shorley 30 Cat 4 1st Marion Quin 32 2nd Chris Stanley 32 3rd  Franco Gentili 31 Monthly Stableford winner George McCallum  Non winners cup winner Paul Manning Best front 9 Malcolm Foskett 20       Best back 9 Bob Shorley 18  NTPs  5th Bert Lawson 11th  Harry Armstrong  15th  John Barraclough 17th  Paul Manning  Football draw John Holland Gary Grierson Lauraine Walker Steve Sayers and Kevin Bonser
Tuesday Toffs
On Tuesday 18th October 77 players took part in the weekly stableford golf competition at La Marquesa. Due to the rain in the early hours it was a very grey and humid day with very little breeze which made way for some great scores. Cat 1 1st Paul Manning 42 2nd Bill Martin 36 3rd Gary Grierson 35 Cat 2 1st Alan Venables 34 2nd John Kirkwood 33 3rd Terry Sayers 32 Cat 3 1st Ian Stewart 34 2nd Phyliss Venables 33 3rd Bruce Gordon 33 Cat 4 1st Norman Woods 36 2nd Chris Stanley 36 3rd Franco Gentili 32 Overall winner Paul Manning Best front 9 George McCallum 18 Best back 9 Ian Pegg 19 NTP´s 5th Tony Stanley 11th Morag Turner 15th Bill Martin 17th Alan Venable Football draw Norman Woods Mary Sanderson Ian Turner Tony Stanley and Bill Martin. If you would like to play with Eurogolf on Tuesdays and Thursdays at La Marquesa please visit the website www.eurogolf-quesada.co.uk
THE ORANGE TREE GOLF SOCIETY @ LA TORRE ON TUESDAY 18TH OCTOBER
Winter certainly has arrived on the Costa Blanca and we thought we were getting ready to play our first society day in the rain, but how lucky we were. On arrival at the course the clouds were dark and we all got set for a cold and rainy day but the weather held off and we had a great day. Thanks must go to La Torre for a good day and a course which is getting better all the time.
The Captain decided on Pairs Betterball competition. After a good day we all returned to The Orange Tree bar and restaurant on the Cabo Roig strip for presentation and much needed drinks and refreshments. Thanks to Chris and his staff for these and the excellent service.
The winners were Nigel Cawthra and Willie Naughton with a nett score of 45 points, 2nd were Chris Blown and Martin Lowe with 44 points. We then had 3 joint third places, who all received prizes with 43 points. These were, Dave Eadington and Pete Curly, Simon Sharples and Kevin Wenn plus Fred Noakes and Trevor Rollison.
NTP´s went to Chris Blown (3rd), Willie Naughton (5th), Jack Shepherd (11th) and Kevin Wenn (15th), with Nigel Cawthra getting a two on the 17th.
The society set off this Wednesday for the first golfing trip to Val de Este. Reports and pictures will be posted.
The next society day is on Tuesday 1st November, all members and guest must place they name on the start sheet soonest has places are limited. This sheet is in The Orange Tree restaurant. Or email at orangetree@hotmail.es
All fixtures can be found on the website www.orangetree-caboroig.com
T.M.G.S. @ VILLAMARTIN 19/10/16
Again another early start which meant for most members that they were up before the sun came up, speaking of which according to the forecast it was supposed to rain, thankfully the Spanish forecast is about as accurate as the English one is. We were however greeted by heavy cloud but this did not deter the spirit needed for a Medal round.
With just 2 no shows 34 members began from the dreaded tee 10.  I fail to see the problem that many people have with this hole, it is after all another shortish par 4 oh yeah I forgot to mention the out of bounds on the left and the water hazard on the right. Anyway the day progressed well with the Gold category showing why the Medal format is better suited to the lower handicappers where the podium places were won with scores around par. For the amount of traffic on the course it was found to be in excellent condition with the greens yet again proving to be the stumbling block for the higher handicappers.
Results; Best Visitor Mr. L. Brain nett 74. Bronze category, 3rd T. Finne 80, 2nd J. Dursley 74 1st C. Marsden 73 Silver category, 3rd D. Hazel 76, 2nd F. Kras 76 L/H, 1st P. Skarnes 73. Gold category, 3rd P. Bradley 73, 2nd K. Aasebo 70, 1st D. Lethaby 67. N.T.P.'S hole 6 K. Aasebo, hole 9 P. Sabine, hole 13 M. Kennedy hole 17 P. Bradley. The "2's" pot had rolled over from last week and contained €76 which was won by D. Lethaby and J. Dursley. Photo: N.T.P. Winners. For further information about our Society please visit our website   www.tmgs.org or www.facebook.com/TMGSGOLF  our phone number is 661 524 101
Spanglish Golf Society (in association with Sapphire Properties and Costa Blanca Green Fee Services) at El Plantio on 19th October 2016.
For this months meeting the Spanglish Golf Society and a group of 24 players visited the established course at  El Plantio taking advantage of the excellent society deal obtained from Costa Blanca Green Fee Services.
Today was our Captains Day and we hoped it would be a wonderful day for our Captain Jack Fanning but we were awoken by a heavy rain storm but thankfully the storm abated and the course was in good condition and a good day was had by all.
The competition today was an individual stableford and the winning scores on the day were as follows:
1st – Mervyn Evans – 39 points, 2nd – Philip Ward – 39 points
3rd – Steve Birkett – 36 points, 4th – Noel Hedigan – 34 points
5th – Bob Hewitson – 34 points, 6th – Mike Probert – 34 points
Hidden Pairs winners – P J Hayes & Mike Probert – 68 points
Nearest the Pins – Brendan Griffiths,Tony Robson (2),Steve Birkett
Nearest the Captains Drive – Jim Speakman
After the game we returned to the Spanglish bar, which is located at Dona Pepa, Quesada for a welcome snack prepared by the bar and the prize presentation and we give our thanks for their support and that of our sponsor Sapphire Properties.
There were prizes for almost every golfer and a bottle of wine for all provided by our Captain.
Our next friendly day fixture is at Vistabella on Wednesday 2nd November 2016 and the monthly meeting is at El Valle on Wednesday 16th November 2016.
If you are interested in joining the society call Paul Cawte on 966731223 or Graham Hall on 664692638 or better still pop into the bar.
Report by Mike Probert of Costa Blanca Green Fee Services on 966 704 752 or 661 345 931 or see us at our web-site at www.costa-blanca-greenfees.com.
LAS RAMBLAS GOLF SOCIETY – REPORT FOR W/E 21 OCT 16
We started the week with a 4 Ball Texas Scramble which was played in glorious weather conditions and it turned out to be a very close affair with 5 of the 6 teams all being within 1.4 of each other. The winners with a score of 58.8 were Rod Doel, Pete Dunn, Alan Douglas and Annemarie Weisheit.
On Wednesday we played our penultimate 'major' competition of the year which was for our Memorial Trophy. The main object of the day is to remember past members and partners of present members who are no longer with us and the format was a 2 ball better ball. Despite the threat of rain we were able to complete our round in rather benign conditions and it was fitting that our President Doug Wright who lost is delightful partner Delia some 2 years ago was in the winning pairing.
Doug had a tremendous round contributing 45 pts to his and Pete Dunn's amazing total of 49 pts to take the trophy. The runners up playing in the same 4 ball and pushing the winners all the way until the last were Rod Doel and Mike Chapman with 44 pts. Third place went to Alan Douglas and Reg Akehurst scoring 43 pts. Surprisingly despite the excellent scoring there were no 2's in the 2's Club meaning the prize money rolls over to our game next Wednesday.
On Friday it was semi-final day of our Pairs Match Play Knockout competition. Doug Wright continued his good form partnering Brian Dent using his significant handicap advantage to a 2&1 victory over Ron Phipps and Hendrick Oldenziel. Joining them in the final will be Bryan Neal and Mike Chapman who followed up their last round 6&5 victory with another impressive 4&2 win over Nick Campbell and Pete Dunn.
The remaining members played an individual stableford competition which was won with a superb 40 pts by Terry Field playing off +1. John Shervell was second with 37 pts and in third place was Yvonne Phipps with 36 pts.
Mike Chapman