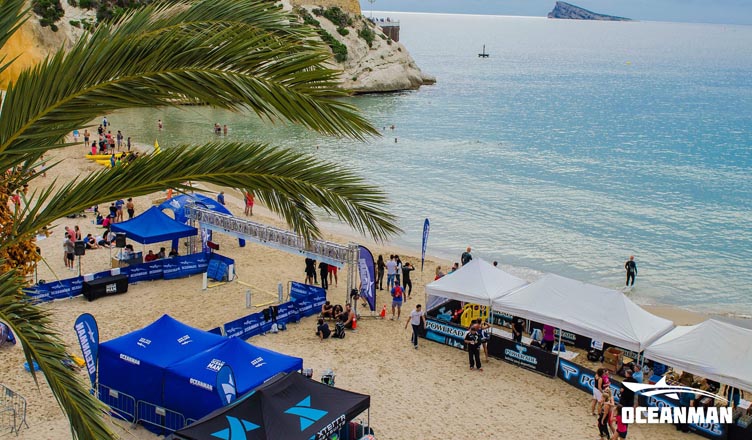 This Sunday four local swimmers became World Half Oceanman Champions 2016 – Rodreigo Solis Ibanez (Club Tenis Elche) and Zoe Connolly, mum Vicki Connolly and Beryl Altabas (all Club Natacion Elche) achieved podium positions for their categories in the 5.5km Half Oceanman World Championship.
For the second year running Benidorm hosted the finals of the Oceanman World swimming circuit for both amateur and world experts in openwater. After 4 previous competitions, across two continents, Europe and America the year's finale started on the "Mal Pas" beach in the centre of Benidorm.
Three different race distances were challenging over 500 swimmers of all ages. With distances of 9.3km , 5,5km and the popular 1.5km events being split into world qualifying swimmers and non-qualifying swimmers. Swimmers races were denoted by the colour of their hats. In order to be eligible for the prestigious World 9.3km and 5.5km races swimmers had been required to qualify in a previous race from the year's circuit.
Each of the four local swimmers had previously qualified for the World competition in their swims around Tarbarca Island (5kms) on the 11th September this year. Coming in first of all the male swimmers, Rodrigo Solis Ibanez also gained 1st position in the male junior 16-19 category with an outstanding time of 1:14:30.
Next was Zoe Connolly placed 1st in the female junior 16-19 category with a time of 1:34:08, Zoe was the youngest competitor of the whole competition. Mum, Vicki Connolly followed behind Zoe coming 2nd in her 50-59 female category, time 1:58:48.
The final local champion and the oldest swimmer in the whole competition, Beryl Altabas came in 1st in the female 60-69 category with a time of 2:28:25. An outstanding achievement for all four local swimmers. Each of them won entries into two or three of next year's races, a total of a cash prizes of 550€ between them. Congratulation to all.