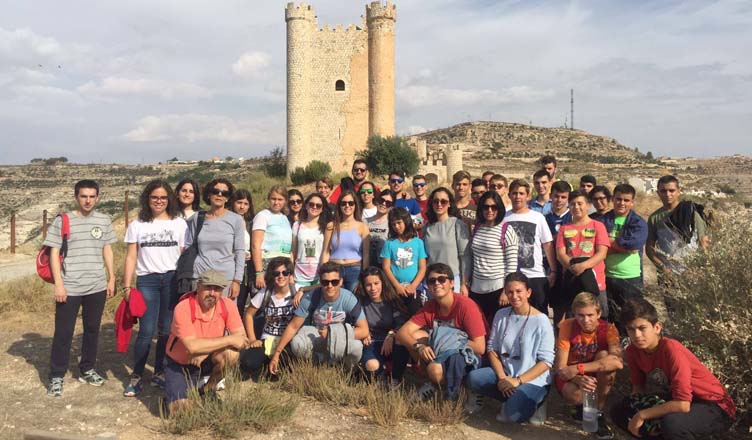 The younger members of the Mojácar Municipal Band have been on a cultural trip courtesy of Mojácar Town Council.  This is in recognition of the various concerts they have taken part in throughout the year and, for their collaboration in events organized by the Town Hall.
The four day trip included visits to Alcalá del Júcar in Albacete, Madrid and the Balneario (Spa) of Archena. First of all the 55 junior members of the Municipal Band travelled to the Los Olivos Rural Complex in Alcalá del Júcar, one of the prettiest villages in Spain. There, they had the opportunity to visit the many monuments and walk around this historic town declared of Artistic and Cultural Interest by the Ministry of Culture. In the Cabriel River, they enjoyed some outdoor activities including rafting, canoeing and hiking.
One of the many surprises that were included in the trip was a visit to Madrid to see the musical "The Lion King". They all really enjoyed seeing one of the biggest musicals ever staged, which has been admired by over 80 million theatregoers worldwide.
The Spa at Archena was the last stop on an action packed journey and included a fun packed day in the water.
Accompanying the band members on the trip were; Mojácar Councillor Raquel Belmonte, the Director of the Band, Miguel Angel Miranda, Deputy Director, Diego Melgares and Luisa Garrido.
Raquel Belmonte, Mojácar Councillor for Youth, was very pleased with the whole experience: "It's a trip that children always look forward to and it is not only the reward for all their efforts, but also a part of getting along together. It is lovely to see how great friendships and even relationships are formed within the band. What we have in our hands is a great responsibility, since there are many different age groups, each going along at its own pace, but it is always very rewarding. I get great pleasure from seeing how well the young people progress".
All the members of the Mojácar Municipal Band deserve this recognition, as they enjoy a reputation as one of the best in the province of Almeria.