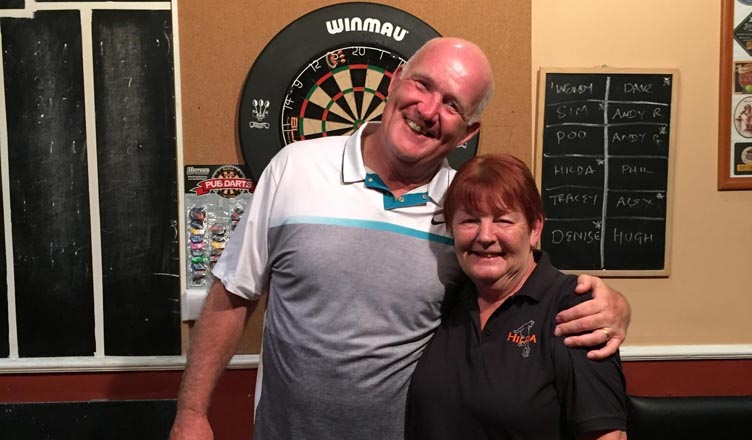 Featured Match:
Junction Jaguars v Junction Jackals – By Simone de Lacy
This time last year the Jaguars were victorious over their counterparts, the Jackals and so it was not surprising that those dirty dogs would want to take their revenge this season.  First up in the triples was new signing, Dave Wright teaming up with Andy Rutter [100,135] (last season's men's singles finalist) and Nigel Elvery.
They faced the Jaguars new signing, Lesley 'Eagles!', Hildy-do-da [76] and Wendy Woo Hayward [71] (last season's ladies singles finalist).  The ladies scored OK but didn't make it to a finish despite whittling away at the men's 300-point advantage, Wrighty [83] eventually did the damage with D6.  Throwing first in Triples #2 was ex Captain de Lacy, landlady Lisa and captain 'Poo' Schofield [76].
They faced another new signing, Alex Nikolov [100], Scooby Hugh Galloway [92] and Bazzles 'Here we go, Here we go' Schofield [77, 80].  The lads won that one too with Galloway's D18.  They also took the third triple with Mr de Lacy [81, 85, 99], Kenny Wilkinson and Landlord Andy's score of 100 and a check-out on D3.  The Jackals also took all three pairs games.
Lisa and Simone did little to defend against Wrighty and Elvery's [100, 60 and D2].  Patty Poo [83, 138] and Hilda [73] put up a much better fight against Galloway [63, 62, 60] and Gildea's D2 as did Wendy Hayward [85, 80] and Lelly-Bear 'Eagles!' [ 70] over Bazzles and Rutter [85, 60, 140, 91].
At half time, lovely Lisa's sausages and chips with onion gravy was devoured in record time- well we did have Alex 'tape-snake' Nikolov to feed!  Then it was big smiles when Wendy Woo Hayward [72, 81, 75, D2] pipped Wrighty [140, 85] to the quickest finish.  The mighty Rutter [60, 60, 80, D6] almost succumbed to Simone 'Laurence' de Lacy [133] as both were down to the double.
Patty Poo [79, 73, 60] put up a valiant effort against Gildea [100] but the sassy Landlord got his finish first.  However, captain Phil de Lacy seemed to lose it against Hilda Wilkinson's consistent scoring and cheeky check-out on D8. The rumble in the Junction of Tracey 'Psycho' Simpson v Alex 'Bloody' Nikolov was fought and won by the latter with D20, neither particularly pulling out their best performances, however Denise 'Snipper' Green [64, 90, 77] gave the girls a few things to cheer about until Scooby Hugh put the final nail in the coffin [123, D4].