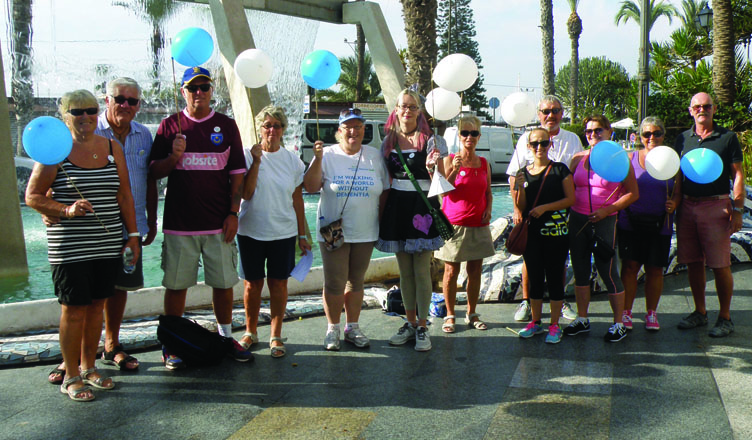 SUZIE COOPER WRITES………World Alzheimers Day was widely commemorated across the Vega Baja on Thursday with a series of activities organised across the region.
After months of planning the day finally arrived for our very first Torreviaja Memory Walk. The walkers turned up at the fountains for a photo call & were given an Alzheimers balloon to carry.
At 10.30 we set off, turning heads as the group passed. With Jayne Leggatt wearing fancy dress & with collection box in hand we proceeded to pester for donations on the way.
We had a great morning and everyone managed to complete the walk & return to the start point for a well earned drink. The slowest in the group only took 90 minutes to walk the 6 kilometres.
Our collection box netted 66.35€ and with the sponsorship received so far our running total is 1488.35€ (Over £1000). This from only 12 walkers & I can't thank them enough for supporting me and the Memory Walk to raise funds for Alzheimers research.
Jayne Leggatt, Carolina London Martinez, Beate Martinez Diez, Steve Hibberd, Sandra Heath, Sheila & Michael Cox, Sue & Dave Fisher, Jan & Les Bedford, Myself.
Thanks to Allen Bowen for doing the photos.
We all agreed that this must become an annual walk but next year in October. If you would be interested in walking please contact me on suzi.cooper57@gmail.com so I can set up a mailing group for future information.
You can still sponsor us by going to the JustGiving page http://www.justgiving.com/MW16suzicooper. Or by paypal to suzi.cooper57@gmail.com. Every single donation helps, no matter how small.
Working with relatives and patients of this terrible disease the local association celebrated a day of living in the AFA centre, with guests taking part in a balloon release, in addition to free paella thanks to the collaboration of local restaurants.
There were also several presentations by staff from both Torrevieja and the Quironsalud Hospitals and at the University Hospital in Torrevieja staff there placed a 'Mailbox of Memories' in the main lobby with which they were hoping to raise awareness amongst members of the public.
Meanwhile the Alzheimers centre in Cox also opened its doors with a program of activities including a talk on patient care.
The regional centre currently serves 45 patients in the Vega Baja from across fourteen municipalities. It also has an ever increasing waiting list of sufferers which it is presently unable to help.
Centre President, Ramon Marhuenda, complained that "the Department of Health continues to give us the same subsidy as when we had just fifteen patients, so we have to cover the additional expenditure with different activities such as raffles and other help we can get from local supporters.
"But in the Vega Baja the situation is gradually worsening" he said, where it is estimated that a there are a thousand diagnosed sufferers of the disease. He continued "there is still a taboo about having a family member with Alzheimer's. People seem ashamed to seek treatment."