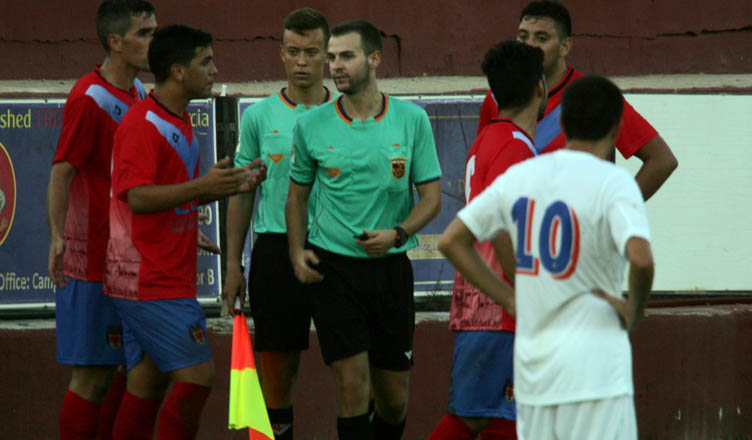 Mazarron supporters were on their feet as one at the end of this game. Not to applaud the efforts of their team but to show their anger at the totally inept performance of the referee Victor Garcia Acosta.
After 16 minutes Javi Rodriguez was blatantly tripped in the Caravaca penalty area but the referee waved play on. The ball was transferred to the other end of the pitch and Javier cut inside David before placing his shot firmly past Juan Pedro in the Mazarron goal to give Caravaca the lead.
Mazarron could not get into their stride and were restricted to long balls played towards Raul who was operating as a lone striker and to a couple of shots from long range. However it was the home team who scored in the 40th minute following excellent play by Javi Torrano down the left. His cross to the far post was headed back by Ruben for Raul to hammer home Mazarron's first goal of the season .
The fun started in the 48th minute when a long ball out of defence saw three Caravaca players in offside positions. Play was allowed to continue and substitute Boudia made a last ditch tackle before coming away with the ball only to see the referee pointing to the penalty spot. Nicolas drove the spot kick straight down the middle giving Juan Pedro no chance.
On 64 minutes Javi Torrano took the ball out of defence with a Caravaca player hanging on to his shirt. The referee waved play on but Mazarron conceded a free kick and the attack broke down. The referee did not caution the Caravaca player and was surrounded by angry Mazarron players as the visitors took the free kick quickly. With defenders out of position and the ball on the very edge of the penalty area, a Caravaca striker made a theatrical dive after Raso's tackle and another penalty was awarded from which Steven made no mistake.
The referee completed his hat trick after 75 minutes when Boudia made a last ditch sliding tackle and Senor Acosta adjudged that the ball had bounced up and hit him on the arm. A third different penalty taker Rokas made it 4-1 giving Juan Pedro no chance.
Mazarron refused to lie down and spent the last 15 minutes of the game almost entirely in the Caravaca half. Raso, Mariano and substitute Jose had good efforts and three minutes from time Mariano hit a superb shot from 25 yards which smashed against the cross bar and Jose's follow up effort was cleared off the line. The referee then capped his incredible performance in injury time when Mazarron substitute Juanillo was brought down inside the penalty area and play was inevitably waved on.
Team: Juan Pedro: Raul Torramo: David (Boudia): Raso: Juan Andreo: Mariano: Cesar (Antonio): Ruben (Juanillo): Raul (Jose): Coco: Javi Torrano.
Man of the Match: Javi Torrano.